In this sermon, based on Matthew 23:1–12, our pastor, Ian Forest-Jones, describes how servants and slaves were an important feature of everyday life in biblical times. The idea of servanthood is used both literally and metaphorically throughout Scripture. How then might we serve in our contemporary society?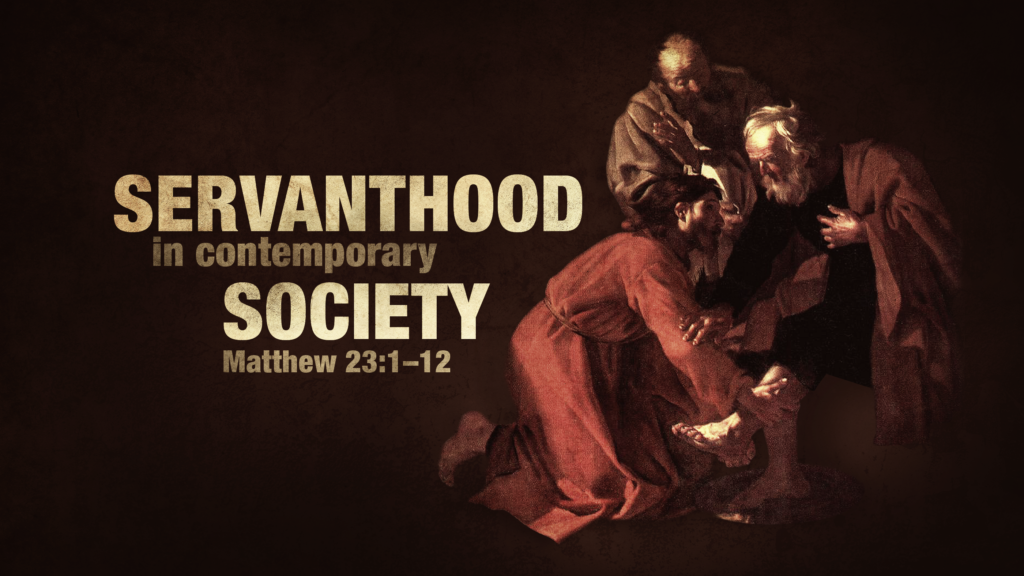 Podcast: Play in new window | Download (Duration: 29:55 — 27.4MB)
Following our series, A Study in Spiritual Gifts, the weekly readings have us focussing on the lifestyle of a friend of Jesus. We want to know: What is the right way to live? How are we to make our way in the world? We may be recovering sinners, but we continue to live among unrepentant sinners. We follow the way and example of Christ Jesus, while others aimlessly follow their self-centeredness to their destruction. We want to avoid their excesses and live in the hope of the promise of the King above all kings.
These questions become particularly pertinent when we find ourselves responsible for other people, whether as a school prefect, a coach, a teacher, a parent, a manager or leader in some domain or organisation. When we are trying to find our own way, how can we help others along the way?
Servant Leadership Done Right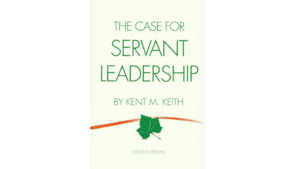 One person whose advice I value is Professor Scot McKnight, a recognised authority on the New Testament, early Christianity, and the historical Jesus. On the topic of leadership, McKnight recommends Kent M. Keith, Director of the Greenleaf Center for Servant Leadership and President at Pacific Rim Christian University in Hawaii. Keith's book, The Case for Servant Leadership, describes the key practices of servant leadership:
Self-awareness – They possess a deep self-awareness and awareness of others. This allows them to understand their own strengths and weaknesses, as well as those of their team members.
Listening – Servant leaders prioritize active listening to understand the needs, problems, and aspirations of their team members. They value open communication and feedback.
Changing the pyramid – They focus on building a sense of community and mutual trust among team members, fostering a collaborative and supportive working environment.
Developing your colleagues – Servant leaders are deeply committed to the growth of each individual within their team.
Coaching, not controlling – Instead of relying on their authority, servant leaders rely on persuasion to influence their teams. They seek to build consensus rather than exert control.
Unleashing the energy and intelligence of others – They see themselves as stewards or caretakers rather than owners, taking responsibility for the roles and resources entrusted to them.
Foresight – Servant leaders have foresight, learning from past experiences and understanding the potential consequences of decisions on the future.
In this book, Keith has developed an idea promoted by Jesus with his disciples, in a number of scenes described in the Bible.
Of course, it makes sense that the friends of Jesus conduct themselves as managers and leaders differently. Since we are learning to enjoy the free, full and forever life promised by Jesus, it is only natural we have much to offer to help others to thrive in life and work and business, etc.
Servant Leadership Done Wrong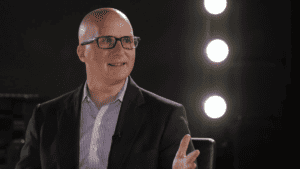 However, there is a dark side to servant leadership, described by another person whose advice I value: commentator and soon to be author, Aaron Renn. He argues,
Renn highlights how conservative evangelicals, who hold to a complementarian theology, affirm that men are the head of the household, but that headship means service rather than authority. In other words, if a man-husband-father has any authority in his household, it can only be used for service. He has a responsibility rather than any real authority.
"What's the problem with that?" you are likely wondering.
The model of servant leadership immediately prompts certain questions:
What is the service to be provided?
To whom?
Who makes those decisions?
Who decides whether or not the man is doing a good job at serving?
In conservative evangelical circles, servant leadership by men essentially means catering to the desires of your wife and children. And if that's the case, they also implicitly get to be the judge of whether you are doing a good job. Most of the time, husbands are simply to give their wives whatever they want, even if the wife is behaving selfishly.
In these evangelical teachings, a man has no legitimate claims of his own he can assert, no legitimate desires or aspirations he can hold, no mission in the world to undertake. This is an incredibly bleak view of what it means to be a married man. Which is exactly why Christian women are struggling to find good Christian men.[2] This version of servant leadership is unattractive to men because it seemingly denies what is essential to manhood, that we are called to lead and that we have a mission to fulfil.
While it will take much more time to explain than I am willing to devote here, let me just state two important truths: 1) a woman does not make a man; and, 2) a man's mission is not limited to his family.
If we get servant leadership so wrong in the Church, how then can we lift up a compelling vision of placing one's faith in Jesus and living a Christian lifestyle?
Servant leadership is a core teaching of Jesus, a non-negotiable for all his friends —whatever your sex, your job, your paycheck or the size of your household. Yet beyond our misapplication of this core teaching, the very idea of servanthood is quite unacceptable to our modern sensibilities. How then can the friends of Jesus offer this wisdom to a world close minded to such advice? How can we practice what Jesus preached in such a way that it promotes flourishing in our lives, our households, our neighbourhoods and our workplaces?
Let us serve in our world and demonstrate a better way to live.
Laws of Servanthood
To properly understand biblical servant leadership, we need to acknowledge there are laws of servanthood described in the Bible.
The words translated as "servant" and "slave" are the same in Hebrew, and there are many passages in the Bible where laws around the treatment of servants and slaves are provided. We might react to this with revulsion, due to our modern sensibilities, but according to OT law, an Israelite servant was to be accorded more rights than a foreign slave.
This was one way the people of God demonstrated a different and better way to live within a socioeconomic and political system based on slavery and servanthood. God's people were instructed to care for and uplift the state of the slaves and servants in their midst. In our day and age and systems, the friends of Jesus are instructed to care for and uplift those in our employ.
The Use of Servant-Language
Citizens Referred to as Servants of the King
An interesting feature of the ancient cultures described in the Bible was how they used the language of servanthood in positive ways. The First Book of Samuel provides an illuminating example:
At this point in his story, David was neither a slave of King Saul nor directly in his employ. Yet, as a citizen of Saul's kingdom, he understood his obligations to the king, and paid the king proper respect due to his elevated position in society.
Kings as Servants of Other Kings
Even more unexpectedly, kings would pay respect to one another using such language:
In this way, one king paid respect to another and recognised the other's elevated position. Ahaz needed help from the king of Assyria and recognised the provision of such help would create obligations between Ahaz and Tiglath-pileser.
Servant as a Self-Designated Title of Respect
Despite how our minds concoct the most egregious abuses of servants and slaves, if the British historical drama Downton Abbey taught us anything, it is that servants were not always abused; rather, they earned the respect of their employers and gave respect to their employers. Servants can also respect other servants in other stations.
For another biblical example, consider this scene from The Second Book of Samuel:
This person, Ziba, was not David's servant, but a servant of the diminished family of Saul, the former king. Nevertheless, Ziba paid respect to David's elevated status as the king who had succeeded Saul.
From the way the language of servanthood was used in the Bible, we learn it is a way to adopt a posture of humility toward another person, whether a peer or a superior, and a way to pay respect to another person. No one is anyone else's slave in Australia, but we do each need a little humility and a whole lot of respect for others.
Servanthood in Proverbs
We might like to think Australia is egalitarian, providing a fair-go for all, but that is far from the truth! The disparities between the rich and the poor, the elite and powerful over Joe Bloggs and Harry Wotsit, are increasing every day. We can rail against the system or we can work our way to achieve whatever progress is within our reach, given our resources. Give respect where respect is due and you will find allies for your cause and advancement.
The biblical book of wisdom known as Proverbs is speaking to our contemporary as much as to its own ancient situation when the writer advised:
This is another way of saying: Do well in your chosen vocation, respect those in authority over you, and respect those with whom you work, and you will advance.
Servanthood in the NT
That is good advice, especially when it works. But what about when it does not work? What if when we pay our dues and give respect to those above and around us, we still find ourselves overlooked, taken advantage of, or even mistreated?
The underlying problem is corrected by Jesus in our scripture focus from The Gospel of Matthew:
With these words, Jesus honoured the scribes and Pharisees because they were the teachers of the law of God at the time. They were to be respected because of their elevated status and their significant responsibilities. In fact, commentators remind us,
However, Jesus criticised the religious leaders generally "because they don't practice what they teach" (Mt 23:3). In not earning the respect they were due, nor meeting the high standards they held everyone else to, the Pharisees heaped scorn on themselves from the One who was above them all.
Jesus introduced his concept of servant leadership to advise his friends to not act as those who seek titles and celebrity, status and power without earning the respect that comes from meeting their responsibilities to others. The titles, celebrity, status and power are not evil in themselves. They become idols when people want the respect, but will not put in the work to earn it nor meet their responsibilities.
Jesus here encourages his friends to remember our status is only ever as a servant to the One above us. God is our Father, Jesus is our Lord and the Holy Spirit is our Teacher. We pledge our allegiance to him; our deference is directed his way. Whatever titles, celebrity, status, power and responsibilities we might have over each other, we are only ever and always brothers and sisters to each other, which Jesus himself powerfully demonstrated when he washed the feet of his disciples, the master serving his students (Jn 13:1–11).
The friends of Jesus are to adopt a posture of humility and give respect where it is due, but to remember that, above all, we are a servant of the King, not anyone else's servant. On behalf of the King we serve, we serve others and therein lies the power of our witness!
The Challenge of Our Roles
All of us conduct ourselves in various roles or occupations throughout our lives: son or daughter, student, team player, club associate, husband or wife, father or mother, worker, manager, boss, leader, grandparent, mentor, etc. In filling these roles we cross various domains —we may be a leader in our workplace, but merely a 2nd stringer on our sports team, then a husband trying to negotiate with your wife the demands of your shared household, and so on. Depending on the vicissitudes of life, we will each have varying resources to apply to the roles and different opportunities in these roles. Some of these experiences may go better than others, but always remember,
Let us step into each role with all we have, to the best of our abilities, serving our King so as to bring him glory, honour and praise, as it is written,
If we allow others to master us, then we are constantly at their whim. If we serve God alone, then we will conquer for we know everything will be brought to light and God rewards the righteous.
Examples of Servant Leaders
There are many examples of high profile Christian servant leaders in Australia:
Father Chris Riley – As the CEO and founder of Youth Off The Streets, Father Chris Riley has dedicated his life to helping disadvantaged young people.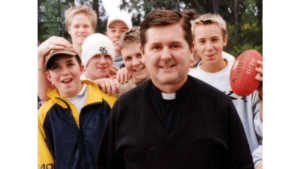 Danny and Leila Abdallah – Danny and Leila Abdallah created i4give Day as a remembrance of their three children and a nephew who were tragically killed by a drunk and drugged driver on the 1st of February in 2020. Despite their grief, they promote a national day of forgiveness to encourage Australians to find someone you can forgive or from whom to ask forgiveness.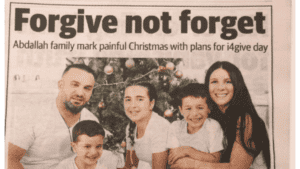 Shane Clifton – Shane Clifton is a Professor of Theology at Alphacrucis College, who, despite a life-changing accident, continues to serve in academic leadership and advocate for people with disabilities.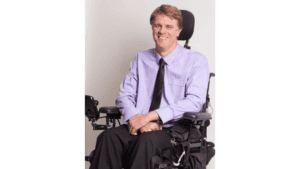 Elizabeth Kendal – An international religious liberty analyst and advocate, Elizabeth Kendal serves persecuted Christians through research, writing, speaking engagements, and lobbying.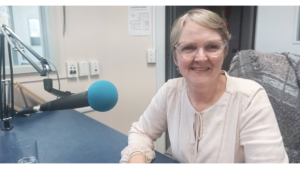 These are great examples of Christian servant leadership that have been noticed by Australian society and lauded for their work and example. However, because these examples are celebrated and these levels of influence are so far beyond mere mortals like us, you might, like me, be discouraged.
That is when we are to remember the example of Jesus:
The leaders of this world lord their authority and beneficence over their constituency (Lk 22:24-30), but the friends of Jesus are not to act in this way. We are to follow the example of our Master, serving him by serving others on his terms. And the Holy Spirit is always present to guide our way, to empower our efforts, and to reward our progress.
How can you conduct yourself as servant leaders in your various low profile roles and occupations? Using the categories described by Keith:
Seek a deep self-awareness, understanding and acknowledging your own strengths and weaknesses.
Prioritize active listening to understand the needs, problems, and aspirations of those you lead or work with, and value open communication.
Change the pyramid by building a sense of community and mutual trust, foster a collaborative and supportive work and family environment.
Servant leaders are committed to the growth of each individual they interact with, so develop your colleagues.
Instead of relying on your authority, rely instead on persuasion to influence your teams. Coach, without controlling.
Even if you are the boss, father or owner, see yourself as a steward or caretaker and take responsibility for the roles and resources entrusted to you. In so doing, you will unleash the energy and intelligence of others.
And finally, servant leaders have foresight; they learn from past experiences and understand the potential consequences of decisions on the future.
All of these skills require commitment and self-discipline. They are not only expected of you by the Master we serve, but empowered by the Holy Spirit in these ways, we will make a difference and influence others positively.
Conclusion
While we might not use the terms servants or slaves anymore, they were an important feature of everyday life in biblical times. The way servants and slaves were treated in Judeo-Christian households was far better than in Graeco-Roman households.
Jesus' core teaching on servant leadership set the agenda for his friends to influence and impact their homes, their teams, their clubs, their workplaces, even the whole of every society in which we have lived.
If you are a friend of Jesus, then you are HIS servant, both literally and figuratively, and that is for the benefit of your family, your workplace, and in all the roles and occupations you may fill! Let us then follow his example and serve him in our contemporary society.
---
[1]Aaron Renn, "he Problem With Servant Leadership", AaronRenn.com, newsletter #81, 16-Oct-2023, https://replug.link/8cd72680 (accessed 31-Oct-2023).
[2]See Anna Hitchings, "For Want of a Lot of Good Men", The Catholic Weekly, 2-May-2019, https://replug.link/a07089e0 (accessed 31-Oct-2023); see also Rod Drehrer, "Where Are The Good Christian Men?", The American Conservative, 14-May-2019, https://replug.link/e7ab9430 (accessed 31-Oct-2023).
[3]See also Ge 17:13; Ex 12:44; Ex 20:10; Le 25:39–55; Dt 21:10–14; Dt 29:10–11; 1 Ch 2:34–35.
[4]Unless otherwise noted, all scripture quotations are taken from The Christian Standard Bible (Nashville, TN, USA: Holman Bible Publishers, 2017).
[5]See also 2 Sa 18:29; 2 Ki 5:6; Ezr 4:11; Pr 14:35; Mt 18:23.
[6]See also 2 Sa 10:19; 2 Ki 17:3; 2 Ki 24:1; Is 60:10.
[7]See also Ge 19:2; Ge 32:4; 1 Sa 17:34; 2 Sa 14:6; 2 Ki 2:15–16; 2 Ki 4:1; 2 Ki 6:3; Da 1:12–13; Da 2:4.
[8]See also Pr 11:29; Pr 12:9; Pr 17:2; Pr 29:19; Pr 30:10; Pr 30:21–23.
[9]See also Mt 6:24; Lk 17:7–10; Jn 15:20; Ro 12:3–8.
[10]Earl F. Palmer, "Pastoral Perspective on Matthew 23:1–12", Feasting on the Word: Preaching the Revised Common Lectionary: Year A, ed. David L. Bartlett and Barbara Brown Taylor, vol. 4 (Louisville, KY: Westminster John Knox Press, 2011), pg 260.