Here's the deal, Narellan Community Congregational Church (NCCC) cares about one thing more than anything else, Christ Jesus. NCCC is a spiritual community, a family, that has found hope in Jesus, and simply want you and yours to experience that same freedom.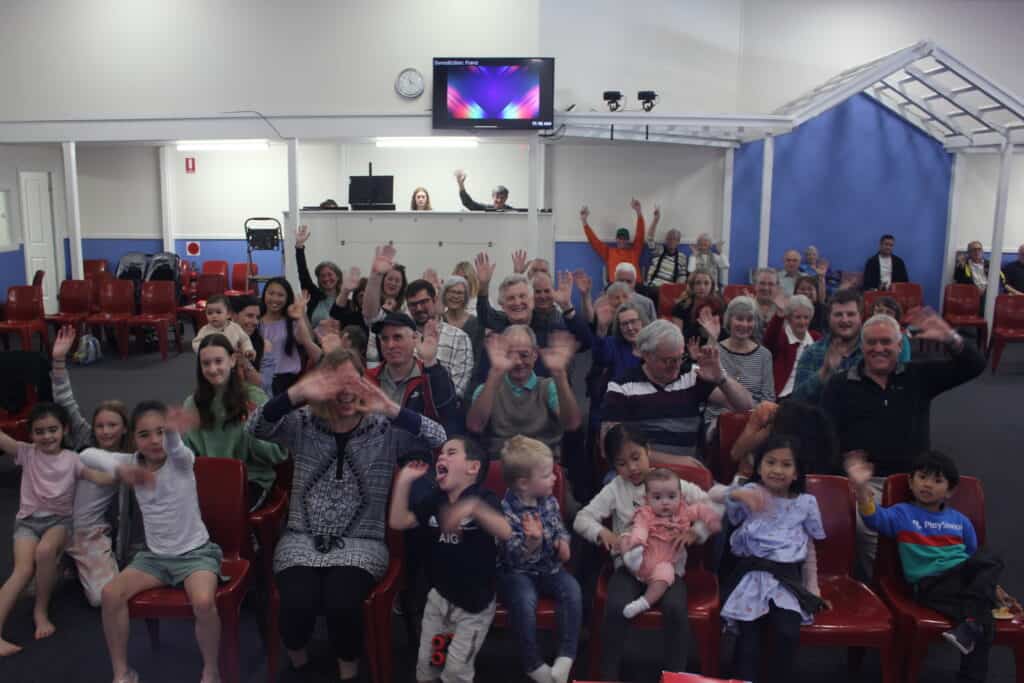 Where We Come From
NCCC started in the early 70's when the pastor of Hunters Hill Congregational Church, the late Angus Bristow, had a vision for a village accommodating parents with an adult child or children with a disability. The Hunter's Hill church resolved to purchase land, that would become known as the Narellan Congregational Village, with the intent to also build a sanctuary on the 22 hectares they had acquired.
However, in 1989, Ps Bristow was killed in the Grafton bus smash, leaving the ministry virtually leaderless. The Elders of the church then asked Pastor Len Kingston, who had conducted the funeral of Ps Bristow, to consider taking the vision for Narellan further.
A few years later, Ps Kingston then became pastor of the Hunters Hill church, as well as administrator of the Narellan village. It was not long after this the Fellowship of Congregational Churches Executive committee saw the potential of Narellan, so funds were made available for Jeanette Kingston to start a work that might eventually become a church.
Under Mrs Kingston's leadership, numbers grew and finally a group of around 25 people, made up of the community and village residents, were regular attendees each Sunday afternoon. This prompted the Hunters Hill Church to look for a minister.
Under the leadership of Pastor David Beasant, a group came together for the first service of NCCC on Sunday, 8 October 2000. In 2011, after meeting in various school halls and community centres, the Hunters Hill church provided funds for NCCC to purchase permanent space at the Narellan Supa Centre in Smeaton Grange.
Where We're Headed
Pastor Ian Forest-Jones accepted a call from NCCC in January 2021. Under his leadership, we have articulated a new vision and mission toward becoming a community of faith that naturally and helpfully invests in the people, families and neighbourhoods around us.
In 2022, we launched outreach and fellowship programs and events under the banner, "Forge: Built Up Together". As such we now invest in supporting children, women and men in various ways.
Here are some photos from our 2022 Father's Day café-style service:
A grand entrance

Our thanks go to Lisa for these homemade, themed decorations for the tables.

Tim provided some classic rock to start the event

Phoebe and Susie could not help but join their dad, Tim, to sing along because they're happy 🙂

Our MC and pastor, Ian, is always prepared with reasons to smile and laugh

Happy, smiling faces joining their dad on Father's Day

Happy, smiling faces only from those who know a photo is being taken 🙂

A great turnout!

Owen provided a jazzy and improvised item on the keyboard

Phoebe provided a special item on the keyboard

Tim leading the children in song
The mothers did not miss out on their own special café-style service:
A colourful greeting at our entrance on Mother's Day 2022

The church was set up in a 'café'-style

The church was beautifully decorated by a team led by Lisa G.

We were all in together, for ours is a multigenerational church

Don't those treats look tasty?!

We enjoyed a special musical item from brother & sister duo Tim K. and Joanna C.

Dave T. presented a witty and touching poem he wrote for the occasion.

Tim K. led the children in song

Not that our Pastor's sermons are boring, but the kids preferred to work on a craft for their mothers ?

Our pastor, IanFJ, led the kids in showing off their craft creations
What This Means For You
What does this mean for you? Most importantly, you will always be welcome at NCCC. We're saving a seat for you. Wherever you're at in your faith journey, you and yours will always be accepted as part of the NCCC family.
Beyond that, if you're ready to plan your first visit, click here. Follow any of these links if you want to learn more about our vision, mission, values or beliefs as a church. Or if you'd simply like to get in touch with a person on our staff directly, click the blue "Contact Us Today" button below.