What the Good Shepherd Says about His Sheep
The Post-Resurrection Appearances and Teaching
The season of Easter invites us to reflect on the time between Jesus' resurrection and the day of Pentecost. During this time, we remember and reflect on Jesus' appearances to his disciples, but, frankly, there are not many records of appearances.
We are provided the descriptions of only 10 appearances, from Jesus appearing to women in the garden, to various encounters with his immediate disciples, and then finally to as many as 120 disciples outside of Bethany for his Ascension.[1]
You are likely wondering to yourself, "Why did he appear to his disciples and not just go straight to Heaven?" That is a good question to be asking! The answer is not so that he could show off his new resurrection body; rather, the writer of The Acts of the Apostles noted,
I wrote the first narrative, Theophilus, about all that Jesus began to do and teach until the day he was taken up, after he had given instructions through the Holy Spirit to the apostles he had chosen. After he had suffered, he also presented himself alive to them by many convincing proofs, appearing to them over a period of forty days and speaking about the kingdom of God.  (Acts 1:1–3, emphasis added)[2]
The correct answer then is Jesus appeared to the disciples to "give instructions" and to speak further with them "about the kingdom of God".  It seems he appeared to and taught only the disciples during this time.
About the content of that focussed teaching we are not provided many details either, sadly.  We know he commanded the disciples to wait in Jerusalem until they receive the Holy Spirit and that he reinstated Peter with a commission to "feed my lambs" and "shepherd my sheep" (John 21:15–19).  Not much else is provided; not really.
However, this is not the first time Jesus referred to his disciples using the image of "sheep". In the great tenth chapter of The Gospel of John he presented himself as "the Good Shepherd" and he spoke metaphorically of the disciples as "My sheep".
What & Why?
Why did Jesus use this metaphor to describe his friends? Is it really helpful because it is not only a little bit offensive?
To decide the value of this metaphor, so as to get a glimpse into what Jesus taught the disciples during those 40 days, let us look more closely at its use in our scripture focus, so that we might better know what are the characteristics of his sheep? We may then become more comfortable with this label.[3]
Explanation
Christ's Sheep Believe on Him
The first characteristic we need to understand is that Christ's sheep believe in him. We learn this in our scripture focus from The Gospel of John:
But you don't believe because you are not of my sheep.  (John 10:26)
When he uttered these words, Jesus was in the Temple at Jerusalem, during a festival. He was walking around the Temple, with his disciples, when they were surrounded by members of the Jewish religious establishment.
During a religious festival, those who gather are typically more spiritually attuned, for that is normally why they go to religious festivals.
This group seems, on the face of it, to have been earnest in wanting to know whether Jesus was, in fact, the promised Messiah. Yet were they truly open to the answer?
"'I did tell you and you don't believe', Jesus answered them. 'The works that I do in my Father's name testify about me.'" (Jn 10:25)[4]
This group asked Jesus this question because, despite his claims, and the evidence before them, they could not make up their own minds.
Did they want signs and wonders? Jesus had already performed such deeds of power. Did they want him to claim that title? He had already done so on a number of occasions, albeit indirectly (e.g., Jn 5:31–47; 8:28–29, 38).
In such a state, Jesus' affirmative answer to their question would not have made up their minds for them; they would have to do that for themselves.
It is clear, therefore, that to become one of the Lord's sheep one must believe in Him. This is the initial step into the fold of God's love and grace, to become one his own.
Christ's Sheep Hear His Voice
The next verse reveals some more characteristics of Jesus' sheep:
My sheep hear my voice, I know them, and they follow me.  (John 10:27)
This verse reveals Christ's sheep recognise his voice as their Shepherd, but they do more than just hear sounds emanating from the Shepherd, for the sense of the word "hear" means to believe something AND to respond to it on the basis of having heard. Thus, perhaps the old fashion word "heed" might be better translation, providing the sense of active listening.
In other words, Christ's sheep obey the voice of the Good Shepherd because they recognise it as his.
Christ's Sheep Are Known by Him
The next clause in this verse tells us Christ's sheep are known by him. This is stated even more explicitly in verse 14:
I am the good shepherd. I know my own, and my own know me (John 10:14)
In this metaphor, then, there is a very remarkable bond between the shepherd and his sheep.
Note the point in these verses is not that the shepherd knows which flock is his but that the shepherd actually knows his sheep individually.
Christ's Sheep Follow Him
The final clause of verse 27 tells us Christ's sheep follow him.
We become sheep in the flock of the Good Shepherd when we believe in him. We will thus listen intently for his voice and recognise it when we hear it. We know who is our shepherd and the Good Shepherd knows his sheep, each one.
Recognising the voice of the Good Shepherd, we then follow him and his instructions. Verses 4 and 5 provide us an application for why following the Good Shepherd is a good idea:
When he has brought all his own outside, he goes ahead of them. The sheep follow him because they know his voice. They will never follow a stranger; instead they will run away from him, because they don't know the voice of strangers.  (John 10:4–5)
The Good Shepherd leads his sheep outside of the confines of the sheep pen. Why? Because outside is open fields, tasty pasture and fresh water. The Good Shepherd protects the sheep and cares for them. His sheep trust him, obey him, and respect his authority because he has promised to provide for them all they need and because he has made good on those promises.
Not so the strangers, who seem like they might be good shepherds, but inevitably are only in the shepherding business for the book sales, Youtube advertising revenue, invitations to the best parties, or being asked to speak to an issue on the tabloid news channel.
There was an interesting and questionable example of this on Channel 7's Sunrise morning show on Wednesday (26 April 2023).
Jay Shetty has become a "love guru" to celebrities, having a social media following of 50 million people. Yet what exactly are his credentials for such so-called 'expertise' on the subject of love?
Shetty is a British podcaster, life coach and author, having recently published a New York Times bestseller titled, "8 Rules of Love: How to Find It, Keep It and Let It Go". A British-Indian, Shetty grew up in North London. He graduated from the Cass Business School at the City, University of London, where he met Gauranga Das, a monk invited to speak at the school on selflessness and living a minimalist lifestyle. Shetty followed the monk for the remainder of his lecture circuit around the United Kingdom.
Shetty claims to have spent four summers in India interning at corporations and training with the International Society for Krishna Consciousness, known as the Hare Krishna movement, and to have spent three years living a Vedic monk lifestyle at an ashram in Mumbai, India —a lifestyle which involves intense fasting and meditation, simplicity and celibacy.
What then are his credentials as an expert in relationships and love?  Only that he went to business school, spent time as a Hindu monk, has become relatively successful as a business owner, but very successful as a social media influencer.
Does he have any good advice about relationships and love? Perhaps, but I find his credentials to be lacking and his advice to be hypocritical.  For instance, he encourages people to be less reliant on digital devices, yet creates the type of viral content that keeps people engaged in social media, to their detriment.[5]
When thinking of Jay Shetty and other social media influencers, I cannot help but be reminded of Jesus' words,
A thief comes only to steal and kill and destroy. I have come so that they may have life and have it in abundance.  (John 10:10)
Avoiding strangers, the sheep believe in the Good Shepherd, hear his voice, know him and are known by him, so follow him.
Christ's Sheep Possess Eternal Life
Besides these characteristics, the sheep following the Good Shepherd are also identified by their 'marks', of which there are two.
I give them eternal life, and they will never perish. No one will snatch them out of my hand.  (John 10:28)
Verse 28 of this gospel tells us one of those marks is Christ's sheep possess eternal life.
The open fields of pasture and fresh water, comfort and joy, are not merely what we need to sustain life now at a basic subsistence. Even more than what we need presently, we are provided for eternally.
Eternal life is the Good Shepherd's gift to the sheep of his flock, the Lord's people. This means eternal life is not merited —as if sheep can do much at all for themselves.  Eternal life is received by faith. Consider two other passages that speak to this topic:
For the wages of sin is death, but the gift of God is eternal life in Christ Jesus our Lord.  (Romans 6:23)
For you are saved by grace through faith, and this is not from yourselves; it is God's gift—not from works, so that no one can boast. For we are his workmanship, created in Christ Jesus for good works, which God prepared ahead of time for us to do.  (Ephesians 2:8–10)
The facts are the identity of the Good Shepherd and his skill as a shepherd to lead his sheep to open field, green pastures, crisp and clean water, etc. Our faith is to believe on, listen to, be known by, and follow this shepherd, avoiding all others who mean us harm, ultimately. The gift of faith is to be cared for, comforted and commissioned to receive eternal life from the Good Shepherd.
A mark then of placing our faith in Jesus is that his sheep have eternal life.
Christ's Sheep Are Eternally Secure
The final mark is Christ's sheep are eternally secure. This is clearly stated in our scripture focus:
I give them eternal life, and they will never perish. No one will snatch them out of my hand. My Father, who has given them to me, is greater than all. No one is able to snatch them out of the Father's hand.  (John 10:28–29)
What precious verses 28 and 29 are, and what comfort they have been to God's people. However, the second verse, 29, is tricky to interpret for the manuscript evidence presents problems. The earliest and majority of manuscripts place the emphasis on "them", that have  been "given" to Jesus, as being "greater than all", whatever that means in this context.
Taking those problems into account, it seems to me the best way to make sense of this verse is to start by noting the "them" of these verses are the sheep, the friends of Jesus, who have placed their faith in him.
With this in mind then, perhaps this verse is another way of stating that other great parable involving a lost sheep.
When he has found it, he joyfully puts it on his shoulders, and coming home, he calls his friends and neighbours together, saying to them, 'Rejoice with me, because I have found my lost sheep!' I tell you, in the same way, there will be more joy in heaven over one sinner who repents than over ninety-nine righteous people who don't need repentance. (Luke 15:5–7)
Once the sheep belong to the Good Shepherd, they are like a precious gift that is greater to the Good Shephard than all gifts, for they are given to him by the Father. The Father is greater than all, especially compared to those who would try to steal the sheep from the Good Shepherd or prevent them from entering his sheepfold.
Therefore, these verses are a comfort to the sheep for they tell us we are eternally secure, as long as we willingly remain in the fold of the Good Shepherd, for he and the Father are united in their work (Jn 10:30). They will protect and provide for the sheep. There is no need nor reason for the sheep to wander away or go astray, nor to worry about strangers.
From our scripture focus, we have learned what the Good Shepherd says about his sheep: that they believe in him, hear his voice, are known by him; they follow him; they possess eternal life and are eternally secure. This is truly a beautiful picture and comforting description of those who have placed their faith in Jesus and have begun to live a Christian lifestyle.
Application
However, let me be brutally honest: I, for one, am not too happy with being called a sheep! I have placed my faith in Jesus; I am trying to live a Christian lifestyle. But I would rather be the lion than the lamb, one who is victorious rather than one who is dependant.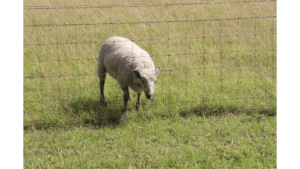 I made that decision when on a motorcycle ride to Adelaide.  As I was riding along endless fields outside of Narrandera, I happened to notice a sheep with its head caught in a fence.  I felt sympathy for the sheep, so turned around to see if I could help.
As I got off my bike, it appeared obvious this sheep was going nowhere and would likely die with its stupid head caught in a fence.
As I got closer, the sheep became afraid of me, so started to wriggle around and finally freed itself from the fence.  Dumbass!  If I had not looked so mean and scary in my black leather, denim and biker boots, that sheep would have died from exposure, unwilling to put the effort in to wriggle free.
No, I do not want to be a sheep!
Friends, that is pride! And it is precisely because of such pride that I had modelled for me, at a young age, a fallen lifestyle and so began to live in sin, in rebellion against my Creator, the Father who has only ever wanted to protect me from the evil one and provide for me all I need, and sometimes even a little of what I want.
Let's say you stick with your pride. You also don't want to be a sheep. I get it.  But consider this,
The Lord is my shepherd; I have what I need.  (Psalm 23:1)
Do you always have what you need? Are you always able to provide the necessities of life for your loved ones? Have you ever found yourself hungry and cold, lonely and uncertain, with no one to turn to for help?
He lets me lie down in green pastures; he leads me beside quiet waters. He renews my life; he leads me along the right paths for his name's sake.  (Psalm 23:2–3)
Does the path you have chosen lead you to rest when you need it, relaxation when you're tense? Do you always know the path you are on is following the correct or best direction? Have you ever found yourself confused amidst chaos, unsafe in the darkness? Are you able to secure your own safety?
Even when I go through the darkest valley, I fear no danger, for you are with me; your rod and your staff—they comfort me.  (Psalm 23:4)
Have you ever found yourself in a dark and dangerous place? Have you ever felt your life was threatened, that you were fearful in the midst of great evil? Who is there to protect you and guide you if you cannot for yourself?
You prepare a table before me in the presence of my enemies; you anoint my head with oil; my cup overflows.  (Psalm 23:5)
Do you have enemies, those people and forces that seem intent on limiting your advancement?  That malign your honour or in any number of ways mean you harm? You want to avoid such people and forces, don't you? You would never think of sitting before them at a great feast, as THE person of honour.
Only goodness and faithful love will pursue me all the days of my life, and I will dwell in the house of the Lord as long as I live.  (Psalm 23:6)
From moment to moment, are you confident you will experience goodness and love from others? Are you comfortable and secure in the lifestyle you have chosen for yourself, in your capacity to achieve all you hope for?
We would all prefer to be a lion rather than a lamb, but that is just not the human condition for the vast majority of us. And for those at the top of the food chain, they are only there because of the pain and suffering experienced by those beneath their rung on the ladder, a pain and suffering they experience because of the choices of the elite.
If that's you, then I guess you are doing quite fine, with nothing to feel sorry for nor ashamed about.
For the rest of us, being a sheep is not nearly as bad as you may think. The Good Shepherd is indeed good and greater than all. He protects and provides for his sheep. He leads them along paths that are peaceful and bring joy to the heart even when there is darkness and danger, for the sheep can trust in the Good Shepherd.
Compared to the would-be lions, the sheep of the Great Shepherd are honoured before their enemies and enjoy the best of the feast he provides and will provide. Out of the grace and generosity of his love, the Great Shepherd pursues his sheep so to guide them to safety and comfort in his house, the gated sheepfold, for the duration of our lives and into eternity.
You may not like the image, but I will set aside my pride and declare boldly, "I just want to be a sheep!  Ba, baa, baa."
Endnotes
[1]Louis A. Barbieri Jr. provided the following helpful chart listing all the appearances in "Matthew", The Bible Knowledge Commentary, ed. J. F. Walvoord and R. B. Zuck, vol. 2 (Wheaton, IL: Victor Books, 1985), pg 91:
SUNDAY MORNING
An angel rolled away the stone from Jesus' tomb before sunrise (Matt. 28:2–4).
Women who followed Jesus visited Jesus' tomb and discovered Him missing (Matt. 28:1; Mark 16:1–4; Luke 24:1–3; John 20:1).
Mary Magdalene left to tell Peter and John (John 20:1–2).
The other women, remaining at the tomb, saw two angels who told them about the Resurrection (Matt. 28:5–7; Mark 16:5–7; Luke 24:4–8).
Peter and John visited Jesus' tomb (Luke 24:12; John 20:3–10).
Mary Magdalene returned to the tomb and Jesus appeared to her alone in the garden (Mark 16:9–11; John 20:11–18): His first appearance.
Jesus appeared to the other women (Mary, mother of James, Salome, and Joanna) (Matt. 28:8–10): His second appearance.
Those who guarded Jesus' tomb reported to the religious rulers how the angel rolled away the stone. They were then bribed (Matt. 28:11–15).
Jesus appeared to Peter (1 Cor. 15:5): His third appearance.
SUNDAY AFTERNOON
Jesus appeared to two men on the road to Emmaus (Mark 16:12–13; Luke 24:13–32): His fourth appearance.
SUNDAY EVENING
The two disciples from Emmaus told others they saw Jesus (Luke 24:33–35).
Jesus appeared to 10 apostles, with Thomas absent, in the Upper Room (Luke 24:36–43; John 20:19–25): His fifth appearance.
THE FOLLOWING SUNDAY
Jesus appeared to the 11 Apostles, including Thomas, and Thomas believed (John 20:26–28): His sixth appearance.
THE FOLLOWING 32 DAYS
Jesus appeared to seven disciples by the Sea of Galilee and performed a miracle of fish (John 21:1–14): His seventh appearance.
Jesus appeared to 500 (including the Eleven) at a mountain in Galilee (Matt. 28:16–20; Mark 16:15–18; 1 Cor. 15:6): His eighth appearance.
Jesus appeared to His half-brother James (1 Cor. 15:7): His ninth appearance.
At Jerusalem Jesus appeared again to His disciples (Luke 24:44–49; Acts 1:3–8): His tenth appearance.
On the Mount of Olives Jesus ascended into heaven while the disciples watched (Mark 16:19–20; Luke 24:50–53; Acts 1:9–12).
[2]Unless otherwise noted, all scripture quotations are taken from The Christian Standard Bible (Nashville, TN, USA: Holman Bible Publishers, 2017).
[3]This sermon is based on an outline provided by F. W. Dixon, "What the Good Shepherd Says about His Sheep", Golden Nuggets 12, Maze Jackson, ed. (1976).
[4]Throughout John's gospel, Jesus appealed to four witnesses because his own testimony does not really count (see 5:31–47). He appealed to his works (Jn 10:25, 32, 37–38; cf. 5:36), God (10:29, 30, 36; cf. 5:37), Scripture (10:34–36; cf. 5:37), and John the Baptist (10:40–42; cf. 5:35).
[5]Nyree McFarlane, "Jay Shetty: the Indian-Brit who went from monk to influencer to millennial mogul", The National News, 15-Jul-2019, https://replug.link/fd5f6fb0 (accessed 29-Apr-2023).