Walk On Water: Trusting God for great faith
I do not envy anyone these days who are dating trying to find a high-quality spouse. The sexual revolution and new technologies have quite literally destroyed the chances for most people to find meaningful relationships.
Here are some disturbing new trends:[1]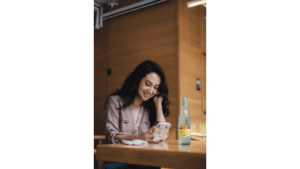 The first to take note of is masterdating. This recent phenomenon is taking the world by storm, and you don't even need to be dating to try it.
Essentially, materdating is when an individual will embark on traditional 'dates', but alone.
The next trend is phubbing, a term which mashes together the words, 'phone' and 'snubbing', and is essentially when you go out on a date, it's going well, but they just won't stop looking at their phone any time it pings. It's not the healthiest of habits.
Then there's cookie jarring.
When taking part in cookie jarring, an individual will create a safety net with another person while already in a relationship, so that they will have someone else to fall back on should it go downhill.
Is it cheating? You be the judge.
Benching might be one of the worst ways to find out that you're not the one. Benching is when you are clearly someone's Plan B or C, while they clearly shop around for a better 'deal'.
The last trend that you simply need to know about is breadcrumbing. Essentially, it's when you tease your way into a relationship.
Breadcrumbing is where an individual sends out flirtatious, non-committal social signals to reel in a person they want.
I am so thankful I am not dating, nor looking for a meaningful relationship. My advice to those who are is to just be honest. Talk to people directly, face-to-face, so there can be no mistaking your meaning when you explain who you are and what you want. That way, you or they cannot grumble afterward because everyone knows exactly what they want out of the relationship.
And, please, just put away the phone!
Over the past weeks, the parables of Matthew 13 and the story of Jesus feeding 5000 helped us understand how our ordinary lives and simple faith can become unexpected, extraordinary and abundant when we live with God, as he intends, enjoying the relationship he always wanted and we all yearn for. Let us consider this theme one more time, from a slightly different angle.
Immediately Jesus reached out his hand, caught hold of him, and said to him, "You of little faith, why did you doubt?"  (Matthew 14:31)[2]
In our scripture focus from The Gospel According to Matthew, Jesus chided Peter by saying, "You of little faith". This is repeated four times in Mt 6:30; 8:26; 14:31; and, Mt 16:8. Each of those four times, Jesus uttered it to disciples. We might find then Jesus meant it with some affection, but delivered it with some bite.
Hearing this, Jesus was amazed and said to those following him, "Truly I tell you, I have not found anyone in Israel with so great a faith.  (Matthew 8:10)
In comparison, "great faith" was commended by Jesus twice, in Mt 8:10 and 15:28. In both cases, the great faith he commended was found in Gentiles he encountered.
It seems then there is a gulf between no faith and little faith, but there is only a short distance between little faith and great faith. Faith necessarily requires trust, even when all around us is chaos, so should we not want as much of it as we can muster!
Our scripture focus has us reflecting on the story of Jesus walking on water and the apostle Peter trying to walk on water.
Christ Gently Criticises Little Faith[3]
We might feel embarrassed for Peter as we read that Jesus chided him, "You of little faith", for it was no small matter to step out of that boat. Nevertheless, we must acknowledge Christ gently criticises those with little faith. Why?
We learn from this story, little faith is often found where we might expect greater things.
We see little faith in Peter and the disciples as a whole. We are surprised at this because these men had seen and known too much to be like this.
Little faith is dependant on appearances.
Peter's faith did not become little. It was little, and the situation merely revealed it.
Little faith wants to be rewarded for the smallest expression, but great faith believes God's word without expecting a sign or reward.
Little faith is affected by surrounding circumstances.
Peter tended to live by feeling and sight. He was okay until he focused on the strength of the wind. Little, or weak, faith is limited by our environment or circumstances. Great, or strong, faith knows where its true standing is and focuses there. It keeps its focus on God and his Word.
Little faith tends to exaggerate its peril.
For a fisherman, it is quite surprising Peter never thought of swimming. In his brashness, it was either walk or sink for him.
Little faith tends to build "worst case" scenarios. Peter noticed the strength of the wind, sure, but he had an example before him of walking on water, so it was indeed possible! Where Peter first imagined he could be with Jesus and conduct himself as Jesus did, he quickly turned his attention to his peril, which he could have himself easily averted by swimming.
Little faith tends to be unreasonable.
Faith is reasonable, it is not based on wishful thinking. Unbelief, on the contrary, is unreasonable. It questions and challenges, and broaches no alternatives, which is why there is a gulf between no faith and little faith.
Little faith may not yet have it, but experience guides us: If it is worth trusting at all, it is worth trusting to the full. Little faith, which trusts only a little and so far, tends toward being unreasonable, rather than toward reasonable. It gets weaker before getting stronger, if left to its own devices.
Little faith often gets a wetting.
As we see in Peter, little faith is a great fabricator of terrors. He had survived strong winds on the sea before. Why shrink now?
Peter got wet, but it was his own little faith which was responsible for it.
"You of little faith, why did you doubt?" Christ criticised Peter's little faith but did so gently for he did not want to destroy what little faith Peter had but to build him up.
Christ Tenderly Commends Little Faith
Instead of destroying little faith, Christ tenderly commends it.
Little faith is the weakest faith, but it is still faith.
Jesus at least acknowledged Peter's little faith. It led Peter to doubt, but it was still faith.
Jesus chided Peter because of his little faith, but we can sense his smile and affection in it.
Little faith attempts to get to Jesus.
Peter did not step out just to walk on water because it seemed like a good thing to do at the time! He stepped out so as to walk to Jesus. That was commendable, after all.
It is a good saying, "He who seeks Jesus has his face turned in the right direction."
Little faith usually turns to prayer in time of trouble.
Little faith at least knows where its help lies. That is why it is still faith.
As he began to sink, Peter surprisingly did not try to swim. He turned instead to prayer —"Lord, save me!"
Little faith is always safe because it brings us near Jesus.
Peter was not saved by the strength of his faith, but by the hand of the one in whom he placed his faith, his master Jesus.
Jesus senses the turn toward him, even if only a little turning, and responds.
Little faith tends to recover and renew itself.
For the littleness of his faith, Peter walked on water, even if only for a few steps. That is far more than I have ever ??
We all can learn from Peter's example that we can take heart in the darkest of nights —the sun will shine again! The storms will become calm. We will arise, with even a little faith.
Christ commends even little faith and does so tenderly, for he would not destroy it, if it can be avoided.
Christ Earnestly Commends Great Faith
The tender affection of Christ Jesus for his disciples, and their little faith, is evident in this story, yet he was effusive and earnest in commending great faith when he encountered it.
Great faith is sometimes found where we least expect it.
In The Gospel According to Matthew, Jesus found great faith twice, and it was found among those outside the people of Israel —in the centurion who asked Jesus to heal his servant and believed Jesus could do so from a distance, for he felt unworthy to have Jesus enter his home (Mt 8:5–13); and, then in the Canaanite woman who wanted her daughter healed and matched Jesus' affected racism with her own humility. Her daughter was healed, also at a distance (Mt 15:21–28). Jesus and his disciples, being faithful Jews, would not have expected Gentiles to respond with such great faith.
Yet great faith is sometimes found in unexpected places. The centurion approached Jesus when he and his disciples were in Capernaum, in northern Galilee, a rugged and rural area far from Jerusalem. The Canaanite woman approached Jesus when he and his disciples passed through Tyre and Sidon, a Gentile region. There are people and places our stereotypes and prejudices would question, "Can anything good come from there?" Yet who are we to limit the movements of the Holy Spirit?
Great faith can be found anywhere! Even where we least expect it.
Great faith perseveres in seeking the Lord.
The Canaanite woman would not take "no" for an answer. Jesus appeared 'softly' racist in his remarks, yet he did so to coax out of her heart an exemplary expression of faith.
Great faith is great because it does not stop until it has an answer, for
Great faith sees light in the deepest darkness.
It is not dependent on indications, hints at fulfilment, signs nor wonders. Great faith is great because it believes in God for God's sake. It takes God at his word and believes his promises.
Great faith enters into prevailing prayer.
It is not a last minute utterance out of desperation; it does not let go in prayer until it has found assurance.
Great faith has the 'keys of heaven on its chain' and uses them in prayer, and prevailing in prayer.
Great faith delights our Lord.
As we compare the stories, Jesus beamed at the Canaanite woman, but probably smirked at Peter.
Jesus said to her, "Let it be done for you as you want." Her great faith guided the resolution to her prayer. And Jesus was delighted.
Great faith confers great benefits on others.
The Canaanite woman's faith secured healing for her child; the centurion's faith secured healing for his servant. These were not requests for themselves, though they could have been. They were prayerful requests on behalf on others.
We can accomplish so much more with great faith than with little faith.
This story naturally asks the question: What kind of faith do you have: great faith, little faith or no faith?
As I mentioned in my introduction, there is a gulf between no faith and little faith, but there is only a short distance between little faith and great faith. So what kind of faith do you have? What kind do you want to have? If you have no faith, would you like at least a little? If you have little faith, would you like to progress to great faith? How will you move on to achieve it?
To answer these questions, we need to understand what we are talking about.
Faith Includes Trust
Defining faith is a whole other sermon in itself. For now, understand that faith is loving, trusting and obeying Jesus. From this definition, which I prefer, you can see faith involves every aspect of our being. It is not just what we believe, but is also how we live.
For me, trust is the most important element of this definition and the one I want to explore more with you in these reflections. To appreciate how trust and faith work, let us go back to the story of Jesus and Peter walking on water.
Who Walks On Water?
What was Peter really thinking when he said, "Command me to come to you on the water"?
Firstly, Peter was thinking, "OMG! Jesus is walking on the water!"
If you have no faith and are wondering why you should place your faith in Jesus, this is it. This is the reason.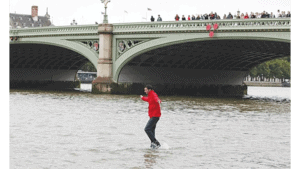 Steve 'Dynamo' Frayne is a UK illusionist who famously walked across the River Thames outside London on 25 June 2011.[4]
That was a remarkable stunt, but Dynamo does not pretend to be anything other than an illusionist, even though when asked how it was done he said, "It's a secret I will take with me to my grave".
My family and I saw Dynamo perform at the Qudos Bank Arena in November 2016. During the show he…
The tricks Dynamo performs are not real.[5] When he walked on water, it was a phenomenal illusion. No one thought he was walking on water for real.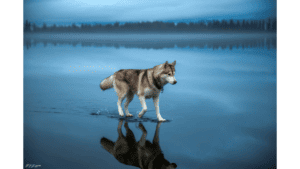 No one can walk on water … well, except maybe wolves ☺ I'm certainly not going to tell him otherwise!
Yet in our scripture focus we have Jesus walking on water for real. We know it was for real because there was a boatload of disciples who saw him do it and shared the tale. Peter was one of those and, as a result, placed his faith in Jesus.
There might be a great gulf between no faith and little faith, but here is evidence that should move you that significant distance. Jesus walking on water is one of the evidences that backs up his claim to be who he said he is and that what is written about him is true.
Seeing Jesus walking on the water led Peter to have at least a little faith. He gave voice to his faith by asking, "Command me to come to you on the water".
Remember, faith involves believing and how we live. Believing Jesus walked on water is only one half of faith. We also have to live as if his walking on water is true and that we too can walk on water.
Seeing Jesus out there, Peter felt as if he should be able to walk on water just as Jesus was doing. And he was correct —if you want to know why, then you will have to listen to my Deeper Dive podcast episode for this coming week. Peter had enough faith to believe Jesus was for real standing on the water; however, he did not have the great faith needed to embolden him to just step out of the boat. He needed the confidence that would come from Jesus either commanding him to step out of the boat or promising him it was possible.
We can all easily appreciate stepping out of a boat onto that water would have been a bold step! Water was a valuable resource in the ancient world, a source of power and fear, a means of deliverance and punishment, and a vital element in religious worship. It evokes rich symbolism and, hence, strong feelings for Peter. Stepping out of the boat onto those chaotic waters, with that threatening wind swirling around, would have not been a small matter, yet seeing Jesus himself standing on that water should have been enough to arouse in him great faith, don't you think?
Who Can Walk Through Water?
Maybe walking on water seems too far out to you, too unbelievable. There are other significant biblical stories involving water that bear on our scripture focus and help us understand the trust of faith.
Then Moses and the Israelites sang this song to the Lord. They said: I will sing to the Lord, for he is highly exalted; he has thrown the horse and its rider into the sea.  (Exodus 15:1)
Moses led the ancient Israelites out of slavery in Egypt (Ex 14:15–31). This involved escaping the army of the Pharaoh by passing through the waters of the Red Sea to escape the chariots that pursued them. As Moses stretched out his hand over the sea, the Lord divided the water of the sea and a wind dried the ground before them, so they could cross over.
That was an extraordinary miracle which should have aroused great faith in all who were there present! God provided a way for them through the water.
Then Moses led Israel on from the Red Sea, and they went out to the Wilderness of Shur. They journeyed for three days in the wilderness without finding water.  (Exodus 15:22)
From there, they travelled in the wilderness for three days without finding water (Ex 15:22–26). They then arrived at a spring of bitter water called Marah.
Granted, three days is a long time to travel without finding water to replenish whatever they had on hand. Yet, realistically, they would have been thirsty, but not parched.
Remember, they had just seen the Almighty God command the waters to obey him, so that they might be saved by walking through the waters. So, what did the people escaping Egypt do when they became thirsty?
The people grumbled to Moses, "What are we going to drink?" So he cried out to the Lord, and the Lord showed him a tree. When he threw it into the water, the water became drinkable.  (Exodus 15:24–25a)
They grumbled.
What did Moses do? He prayed.
This was a test and this ancient people failed miserably. Instead of talking to God they grumbled about God, as if their grumbling would get him to act the way they wanted him to. That is no way to conduct a relationship.
Those ancient Israelites demonstrated they had little, if any, faith; Moses demonstrated he had great faith in that he trusted the Lord commands the water and would provide for all their needs, as he promised, even in that difficult environment (Mt 6:33).
You Can Walk Through and On the Water
Having no faith requires no effort at all. Moving to having at least a little faith is a great distance because it requires trusting Jesus is who he said he is and that what is written about him is true. Yet having a little faith means you can trust your Creator when he promises,
Now this is what the Lord says … "Do not fear, for I have redeemed you; I have called you by your name; you are mine. When you pass through the waters, I will be with you and the rivers will not overwhelm you, When you walk through the fire, you will not be scorched and the flame will not burn you. For I am the Lord your God, the Holy One of Israel, and your Saviour… (Isaiah 43:1–3)
You can trust Jesus because when your life seems chaotic and your environment threatening, remember Jesus walked on that water and survived his own threatening, swirling winds. Remembering that will give you at least a little faith.
Jesus then utters to you that powerful word, "Come". He invites you to not shrink back, but to venture forth. To not fear but to step out in victory. But here is the thing Peter did not understand: Jesus does not give you the power to overcome just one moment. It was not Jesus' magic that enabled Peter to walk on the water. It was Peter trusting Jesus was with him. When he turned his attention to the wind and the water, he sank. If he had kept his eyes on Jesus, then he would have made it all the way.
Conclusion
Jesus is standing on the chaotic water with you, with the same troubling wind swirling around and threatening his standing, as it does you. He invites you to "Come". He does not give you the power to step out in faith once, but for a lifetime.
Our ordinary lives and simple faith can become unexpected, extraordinary and abundant when we live with God. When you approach the throne of our Lord, will he say to you, "Stop doubting and believe", or will he say, "You of little faith"? May he instead say of you, "Well done my good and faithful servant on your great faith."
Trust God. Trust his commands and promises are good. And you too will walk on water.
Endnotes
[1]Britt Jones, "'Masterdating' is the new dating trend both single people and couples are trying", Lad Bible, 8-Aug-2023, https://replug.link/f74fbe20 (accessed 10-Aug-2023).
[2]Unless otherwise noted, all scripture quotations are taken from The Christian Standard Bible (Nashville, TN, USA: Holman Bible Publishers, 2017).
[3]Adapted from a sermon outline provided by Charles R. Wood, Sermon Outlines on Great Doctrinal Themes (Grand Rapids, MI: Kregel Publications, 1994), pg 17–18.
[4]Emma Cox, "No this picture ISN'T faked - it's a master magician's greatest stunt: Meet Steve 'Dynamo' Frayne, the man who can walk on water", The Daily Mail Australia, 1-Jul-2011, https://replug.link/4387a780 (accessed 9-Aug-2023).
[5]Although you may wonder when you watch this "Best of…" video: https://www.youtube.com/watch?v=gQRQOcEarTo&t=9s