The Fruit of The Spirit
I am pretty certain I have shared the story of Rachel Dolezal with you before, but it bears repeating for its relevance to our topic today.[1]
With platinum blond hair, sea-foam eyes and patches of freckles splayed across her fair skin, Dolezal is everything but black. She didn't even meet a black person until she was 10. Still, Dolezal wrote, "the feeling that I was somehow different from [my family] persisted. I felt black and saw myself as black."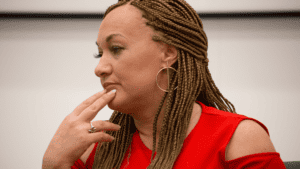 Dolezal escaped rural Montana for a small college in Jackson, Mississippi, and her inner blackness flourished. "As I got more involved with the [Black Student Association], campus activism, and my artwork, the more Afrocentric my appearance became," Dolezal wrote.
Dolezal later became a professor and a director of the local Human Rights Education Institute, thus beginning what she calls the happiest and most fulfilling time of her life. In 2014 she became president of the Spokane chapter of the NAACP.
Then, on 11 June 2015, everything changed. Dolezal made a never-substantiated claim of receiving a series of racial threats in the NAACP chapter's mailbox. Local reporters began to dig, eventually contacting her parents in Montana, who revealed her true identity. Dolezal lost every job she had, almost all of her friends and within a couple of days, her life was unrecognizable.
Today, Dolezal remains [in her words] "unapologetically Black" and insists race is a social construct with no biological origins. She identifies as "transracial".
I raise this story because it is used as an example by Stanford professor Brian Lowery who argued in his book, "Selfless: The Social Creation Of 'You'", that your sense of self is a social identity and, as such, is communally created and owned. In other words, you are how people see you.[2] What matters is not your biological reality, nor even how you present yourself, but how your community sees and defines you.
For those who want to be fluid in their self-expression, thinking of freedom as being able to say, do, or be whatever you want without others constraining you, then having a self limits your freedom. We are constrained by the identity our community assumes for us.
Lowery therefore argues that because Rachel Dolezal's chosen community accepted her as black, depite being born to white parents, she was effectively black. When Dolezal's parents outed her, it was her black community that changed her sense of self to white, for they then saw her differently.
While there is truth to Lowery's insight, by arguing the self is ALL social contruct, he ignores human biology, that we cannot exist without our bodies. The whole of our being finds its genesis in our biology and its imperatives. It should be obvious that a male body is always a male body, no matter how you dress it up, what you call it, or what you cut off. The self cannot exist without its biology and no matter how a community treats it.
There Are Five Aspects to Our Sense of Self
Every human person is created good by our good Creator. We are called to bear his image in the world, which is to place our faith in Jesus and live a Christian lifestyle, representing the Kingdom wherever we are and whatever we do.
Every human person is created with five aspects to our being. Our sense of self is inextricably tied up with our wellness in each of these aspects:
Physical: This relates to our body. Physical health is attained through exercise, eating well, getting enough sleep, and paying attention to the signs of disease and getting help when needed.
Mental/Intellectual: This aspect involves our capacity to think rationally. Engaging in mentally stimulating activities to expand your knowledge and skills while sharing your knowledge with others is to promote mental health. Educational pursuits, cultural involvement, community activities, or personal hobbies all foster mental growth.
Emotions: This aspect relates to understanding your emotions and coping effectively with stress. It is important to pay attention to self-care, relaxation, stress reduction, and the development of inner resources to deal with life's challenges.
Social/Relationships: This refers to the ability to interact harmoniously with people and the environment, and to maintain and build rewarding relationships. Social wellness involves not only an awareness of our interdependence with others, but also the environment and the world itself.
Spirituality: This final aspect of our being involves seeking meaning and purpose in human existence. It could involve seeking a sense of harmony with oneself and others; exploring the depth of human purpose; understanding values and behaviors; and realizing a common purpose that binds creation together. Spiritual wellness may or may not involve religion, but it is always defined by a sense of transcendance or connectedness beyond ourselves.
These Aspects Are Distinct but Overlap
Our sense of self comes from an awareness of each of these aspects of our being and a healthy balance between them. They are distinct but overlap. Your physical state affects your emotional state. Your emotions affect your capacity to think rationally. Your choices affect who you spend time with and how you spend time with them. Your community affects your spiritual beliefs and behaviours, like how you express your worship, whether you sit quietly or dance joyfully. And so on.
We either Turn Inward or Outward
When we turn away from and rebel against our Creator, we are left with darkness, death and disconnection. This is sin and it is a sickness that infects us at our very core which, unless treated, grows to overwhelm us and we become smaller, less human. As the apostle wrote,
Now the works of the flesh are obvious: sexual immorality, moral impurity, promiscuity, idolatry, sorcery, hatreds, strife, jealousy, outbursts of anger, selfish ambitions, dissensions, factions, envy, drunkenness, carousing, and anything similar. I am warning you about these things—as I warned you before—that those who practice such things will not inherit the kingdom of God. (Galatians 5:19–21)[3]
When our spirituality turns inward, giving in to our self-centeredness, the "works of the flesh" are the results and we become the lost, the last, the least and the lonely.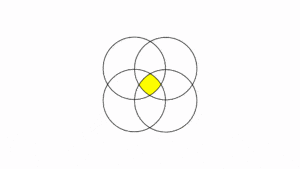 When we repent —which is to turn away from our sin and respond to the invitation of our Creator for rescue, redemption and renewal, then light, life and love come flooding back into our soul, which is to say the Holy Spirit enters our life fully and completely. Our spirituality turns outward, as it should. And the rest of our life is then spent joyfully learning how to "crucify the flesh with its passions and desires to live by the Spirit, in step with the Spirit" (Gal 5:24-26), fully and completely, conformed to the image of the Son (Rom. 8:29), becoming perfect as our heavenly Father is perfect (Mt. 5:48).
Every human person is created with a longing for light, life and love that only union with our Creator can satisfy. We find a free, full and forever life with God, which keeps us free to flourish in all of these areas.
Notice our self is not obliterated —to say otherwise is a fault in Christian devotional language— but our humanity is completed as we become more like the only truly and fully human one, Christ Jesus. That is why both Jesus' faith and his lifestyle are the standard we should seek to emulate.
Jesus and the Holy Spirit
The importance of the Spirit in Jesus' life is evident in that he began his public ministry with the reception of the Spirit at his own baptism (Mt. 3:13–17). "Full of the Holy Spirit", Jesus was then led into the wilderness to be tempted and tested (Lk 4:1). He then left the wilderness to begin his ministry "in the power of the Spirit" (Lk 4:14).[4]
Jesus himself attributed the power of his ministry to the Holy Spirit (Mt. 12:28), a power and enthusiasm which he then passed on directly to his disciples by breathing on them and saying, "Receive the Holy Spirit" (Jn 20:22). This was the beginning of John the Baptist's prophecy that Jesus would "baptise you with the Holy Spirit" (Mk 1:8).
Jesus, as the fully human one, had the Holy Spirit in his life and intends for us to have the Holy Spirit too.
The Work of the Holy Spirit
Sinful humans do not have the Holy Spirit at work in their lives. Once we repent and place our faith in Jesus, which is symbolised in our baptism, like him we are given the Holy Spirit as a gift, to be our companion, our guide, our advocate, our teacher.
What is the primary work of the Holy Spirit in the life of a friend of Jesus?
In him you also were sealed with the promised Holy Spirit when you heard the word of truth, the gospel of your salvation, and when you believed. The Holy Spirit is the down payment of our inheritance, until the redemption of the possession, to the praise of his glory. (Ephesians 1:13–14)
If you have really and truly placed your faith in Christ Jesus, then the Holy Spirit is now with you, guaranteed, a seal of your adoption into the family of God. However, how do we know this is true?
The Spirit himself testifies together with our spirit that we are God's children (Romans 8:16)

And because you are sons, God sent the Spirit of his Son into our hearts, crying, "Abba, Father!" (Galatians 4:6)
The presence of the Holy Spirit in your life confirms your adoption into the family of God. Your salvation is not a mere signature on a certificate; it is a real experience you will have in some way, shape or form. This is the important work of the Spirit to ensure you know you are, in fact, saved. The Spirit works to untangle and untwist you from the power of sin and the curse of death into the free, full and forever life promised by Jesus to his friends. Further to this,
I pray that he may grant you, according to the riches of his glory, to be strengthened with power in your inner being through his Spirit (Ephesians 3:16)
In releasing us for and guiding us into becoming fully human, the Holy Spirit strengthens us against all that previously twisted and tangled us. It is the Spirit who mediates power in the life of the friend of Jesus. Even more,
Now we have not received the spirit of the world, but the Spirit who comes from God, so that we may understand what has been freely given to us by God. (1 Corinthians 2:12)
The power of the Holy Spirit is a gift that helps us understand what our Creator has given us and why, how we are each to fulfil our unique calling so that we participate in the eternal purpose of God. According to Paul the apostle,
My speech and my preaching were not with persuasive words of wisdom but with a demonstration of the Spirit's power (1 Corinthians 2:4)

because our gospel did not come to you in word only, but also in power, in the Holy Spirit, and with full assurance. You know how we lived among you for your benefit (1 Thessalonians 1:5)
When you are operating in the 'sweet spot' of your calling and spiritual gifts, the power of God will be evident in and through you. You will lead the lost to place their faith in Jesus and the friends of Jesus to become mature in unity and fellowship.
Are you open to the Holy Spirit's power in your life for renewal and ministry? Yes? Good!
However, it is important you understand the evidence of the Holy Spirit is not the gifts I have been describing in this sermon series. The evidence of the Holy Spirit in your life will be the fruit of the Holy Spirit! As Pastor Jack Hayford wrote,
Being filled with the Spirit calls us as much to character as it does to charismatic activity. The Holy Spirit's fruit is to be grown in our lives every bit as much as His gifts may be shown through us.[5]
Now that we understand what are the gifts of the Holy Spirit and how they are used, let me know complete this series by getting even more basic, so that we all understand the fruit of the Spirit, which is promised to us and changes our character so that we are prepared and ready for the gifts our Creator has intended for us.
The Fruit of the Spirit
Love
When we "walk by the Spirit" (Gal 5:15), our being will be renewed with the "fruit of the Spirit" (Gal 5:22), beginning with love:
But the fruit of the Spirit is love, joy, peace, patience, kindness, goodness, faithfulness, gentleness, and self-control. (Galatians 5:22–23a)
"Love" is the English translation of the Greek word agape, a word Christianity gave new meaning. Agape denotes an undefeatable benevolence and unconquerable goodwill that always seeks the highest good of the other person, no matter what he or she does. It is the self-giving love that gives freely without asking anything in return, and does not consider the worth of its object. Agape refers to the will rather than the emotion. Agape describes the unconditional love God has for the world.
In The Letter to Philemon, we learn we are operating in love (Philem. 7) when we are grateful for the best in others (Philem. 4), when we deal honestly with others (Philem. 12), bear the burdens of others (Philem. 18), seek the welfare of others (Philem. 10) and believe the best of others (Philem. 21). The famous chapter 13 of The First Letter to the Corinthians describes what love does and does not do.
With the Holy Spirit in our life, our attitudes and actions become re-oriented toward love. And The Beatles were certainly convinced love is all we need.
Joy
Next comes joy. In the New Testament joy is found only in a relationship with Christ Jesus (Rom. 5:11). Joy is the assurance we are members of God's family regardless of the highs and lows of our journey through life (Lk 10:17–20; Rom. 8:38, 39). It is closely aligned with hope, which is the confident assurance that God will see his purpose fulfilled and will someday right all wrongs with the return of Christ Jesus (Tit. 2:13).
Joy, then, is that ever-deepening awareness your life is hidden in Christ and that you can be led by the Spirit through anything. Afflictions, trials, pressures or frustrations may come, but they cannot destroy you, so you experience joy. You may genuinely hurt (2 Cor. 1:8), weep (Jn 11:33–35), be tempted (Heb. 2:18), you may not understand what God is allowing to come your way in life (Jam 1:2–5), but none of this will cause you to lose your focus on God in your life. You can even look beyond your own circumstances during difficulties and minister to the needs of others. This is biblical joy.
Peace
Our attention is next drawn to peace. The human heart longs for peace; Jesus promises it (John 14:27), and the Spirit longs to develop it in us.
Biblical peace is a state of rest, quietness, and calmness; an absence of strife; tranquility. It generally denotes a perfect well-being. Peace includes harmonious relationships between God and humankind, humans with each other, among nations and families. Jesus, the Prince of Peace, gives peace to those who call upon Him for personal salvation.
Peace, then, has to do with personal wholeness and beneficial relationships. It is an inward assurance that because we are positionally righteous with God, by grace through faith in Christ Jesus, we have access to the power of the Holy Spirit to renew all aspects of our being and lives. Hence Hebrews 13:20-21 says, "Now may the God of peace … make you complete in every good work to do His will", so that life's relationships and circumstances reflect God's intent rather than our self-centeredness.
Patience
The next gift of the Holy Spirit is patience —and it must be a gift because it is oh so hard for us to find it within ourselves. Patience denotes lenience, forbearance, fortitude, endurance, longsuffering. Also included is the ability to endure persecution and ill-treatment. It describes a person who has the power to exercise revenge but instead exercises restraint. It characterizes true, godly love, for "love is patient" (1 Cor. 13:4).
The patience the Spirit wants to develop in us is the same patience repeatedly seen in God. The way in which God extended, and still extends, himself to us in Christ Jesus is how we are to extend ourselves to each other when we walk in and with the Spirit. It's inseparable from love (Eph. 4:2), and it knows how to balance "justice and mercy". It is evidence of the work of the Holy Spirit when we long to gain insight into another's actions and respond with that insight in mind rather than responding hastily in judgment.
Kindness
Biblical kindness is acting with godly graciousness toward others, even if we're inclined to do otherwise. It is goodness in action, sweetness of disposition, gentleness in dealing with others, benevolence, affability. Kindness describes the ability to act for the welfare of those taxing your patience. The Holy Spirit removes abrasive qualities from the character of one under its influence.
Goodness
Have you heard the proverb, "It is easy to be generous with other people's money"? That depicts well the attitude of sinful humans, that it is okay to be generous, so long as it doesn't require much self-sacrifice! Not so with our next fruit of the Spirit: goodness, which is the fruit of dealing generously with others.
Goodness is beneficence, kindness in action, virtue-informed action, a bountiful propensity both to will and to do what is good, producing a generosity and a Godlike state or being. The fruit of goodness combines being good and doing good, following the example of God who gave Israel "many good things" (Neh. 9:35) and by the fact that "every good gift and every perfect gift is from above, and comes down from the Father of lights" (Jam 1:17).
Faithfulness
We live in a society in which people are becoming increasingly untrustworthy; even within the confines of church leadership we wonder, "Where's the integrity? the trustworthiness?" And what about marriages in which one or both spouses lack loyalty? Yet, trustworthiness and loyalty are what the fruit of faithfulness is all about.
Faithfulness can refer to a body of truth which we believe; the basic trust which one has in God for salvation; or the dynamic power which realizes the energy contained in the promises of God. It can be translated as conviction, confidence, trust, belief, faith, reliance, trustworthiness, faithfulness, or persuasion. Thus, the idea of "faithfulness" reflects a fullness and steadfastness of such trust and trustworthiness as a character trait of the believer.
The focus of faithfulness is on one's reliability. Because God is faithfully dependable, the Holy Spirit is able to develop dependability in God's people. The statement regarding the early apostles holds true for all Christians: "It is required that [we] be found faithful" (1 Cor. 4:2).
Gentleness
And then there's gentleness —having control over rage; being courteous. Don't you sense society could use a little more "rage control" and courtesy? Physical abuse is on the rise in many homes; fits of anger regularly lead to needless killings. As for courtesy —it's almost gone! Even those in the service industry often make customers feel as if they're doing them a favour to render their service!
Gentleness is a disposition that is even-tempered, tranquil, balanced in spirit, unpretentious, and that has the passions under control. The Greek word behind our English is best translated "meekness", not as an indication of weakness, but of power and strength under control. The person who possesses the quality of gentleness pardons injuries, corrects faults, and rules his own spirit well, which requires inward strength, resilience and…
Self-Control
The final fruit of the Spirit is perhaps the most difficult but most necessary of all: self-control. Society is increasingly saying that an "inalienable" human right is the "right" to exercise unbridled passion. We are increasingly told that "having to learn to resist temptation is emotionally and psychologically draining; it could possibly even damage one's inner psyche and stunt his or her development as a 'whole' person!" And yet the pages of the Bible scream out, "For this very reason, make every effort to supplement your faith with … self-control … For if you possess these qualities in increasing measure, they will keep you from being useless or unfruitful in the knowledge of our Lord Jesus Christ" (2 Pet. 1:5-8).
Self-control, in the New Testament, refers to allowing the Holy Spirit to empower a person so that you are able to voluntarily abstain from anything which might ultimately hinder your ability to fulfill your divinely appointed calling. Self-control stands in stark contrast to the "works of the flesh" described in verses 19–21.
For the flesh desires what is against the Spirit, and the Spirit desires what is against the flesh; these are opposed to each other, so that you don't do what you want. (Galatians 5:17)
Paul's list of "the works of the flesh" and his list of "the fruit of the Spirit" are examples of his major premise: "For the flesh desires what is against the Spirit, and the Spirit desires what is against the flesh; these are opposed to each other, so that you don't do what you want" (Gal 5:17). The list of vices emphasizes self-centeredness and ego-centricity; the list of virtues emphasizes Paul's earlier command: "serve one another through love" (Gal 5:13b). This is a choice. As such, the fruit of the Spirit finds its perfect model in Christ Jesus who "did not come to be served, but to serve, and to give His life a ransom for many" (Mk 10:45).
The conclusion is therefore clear: with Christ as our model and the Holy Spirit the source of our empowerment, "let us … walk in the Spirit" (Gal. 5:25). This is a choice you must make moment by moment.
Conclusion
Moses' final prayer to the ancient Israelites was this:
I call heaven and earth as witnesses against you today that I have set before you life and death, blessing and curse. Choose life so that you and your descendants may live (Deuteronomy 30:19)
The free, full and forever life Jesus promised to his friends is more wonderful than we could ever imagine and impossible for us to achieve on our own. It starts by choosing to repent of our sin, to step out of darkness, death and disconnection into life, light and love.
Once you have placed your faith in Jesus you must choose to live a Christian lifestyle; yet, you do not do this on your own. The Holy Spirit is with you, fully and completely, as your companion, guide, advocate and teacher. If you choose to walk with the Spirit, you will develop the character of Jesus, what is called the fruit of the Spirit, for these character traits, as a whole, are not evident in humans without the Holy Spirit. Your whole being will be renewed by the Holy Spirit.
As your whole being is shaped by the Holy Spirit, you will then discover your meaning and purpose in the calling of God. And God equips those he calls. The gifts of the Spirit will become evident in your life as you serve God's eternal purpose. In this is meaning and fulfilment, joy and peace.
It is too easy for a focus on spiritual gifts to become a source of conceit, thus drawing the believer into living in the flesh. Focus on the fruit of the Spirt AND THEN the gifts of the Spirit will become evident in your life, for living by the Holy Spirit leads to a truly renewed life, yet requires constant vigilance. Choose life.
Endnotes
[1]Gabrielle Fonrouge, "The story of Rachel Dolezal gets even more bizarre", New York Post, 23-Mar-2017, https://replug.link/3784f5e0 (accessed 19-Oct-2023).
[2]"Selfless: The Social Creation Of You", Next Big Idea Club, 20-Apr-2023, https://replug.link/d1e64c60 (19-Oct-2023).
[3]Unless otherwise noted, all scripture quotations are taken from The Christian Standard Bible (Nashville, TN, USA: Holman Bible Publishers, 2017).
[4]For this analysis I relied on Jack W. Hayford and Gary Matsdorf, "People of the Spirit: Gifts, Fruit and Fullness of the Holy Spirit", Spirit-Filled Life Kingdom Dynamics Study Guides (Nashville, TN, USA: Thomas Nelson, 1993).
[5]"Kingdom Dynamics: A Call to Character", Spirit-Filled Life Bible (Nashville, TN: Thomas Nelson Publishers, 1991), pg 1780.