Testing and Being Tested
In our reading from The Gospel of Matthew is described a time when Jesus was tested and then set his own test for his challengers. His test was truly a 'mic drop' moment. His challengers could not answer him for to do would have been too dangerous for their standing among the general public and among their elite peers.
While it is true Jesus' test for the Pharisees was a serious and dangerous test, I am convinced the most dangerous test of all, for anyone, is known as "The Bridge of Death Riddle", as seen in the 1975 British film "Monty Python and the Holy Grail".[1]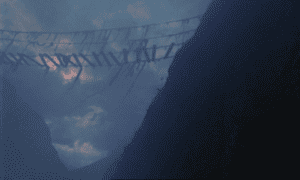 In this film depicting a fictional life of King Arthur, he is accompanied on his mission by a band of stalwart men … he really could have done better without. For the king and his companions, seeking the holy grail was an adventure without compare … and completely unrealistic. Nevertheless, Arthur willingly faced test after test through which he must prove his worth as a man of faith and as a king for the fledgling Britons, who might be an autonomous collective OR a self-perpetuating autocracy in which the working classes are exploited by dictators hanging on to imperialist dogma perpetuating the economic and social differences in society … at least, that is what the mud collectors contend.
Whether you have money, status, celebrity or other privileges, or you have a menial job, while you live in a plain house on a boring street facing a roundabout, life presents tests. These tests will prove your worth as a person of faith, whether others are challenging your integrity or you challenge others by your faithfulness. Whatever the test, let us not shrink back for souls are at stake!
The Context
And when the crowds heard this, they were astonished at his teaching. (Matthew 22:33)[2]
Our scripture focus takes us back to the week leading up to Jesus' crucifixion. He has entered Jerusalem, cleansed the Temple, cursed a fig tree, upset the religious and political leaders of the Jews, and so instigated challenges to his right and authority to do such things. With each display of his power and wisdom, the leaders were enraged but the public were astonished and even drawn to him.
The Greatest Commandment
And one of them, an expert in the law, asked a question to test him: "Teacher, which command in the law is the greatest?" (Matthew 22:35–36)
To understand the scene, we need to keep in mind two things: 1) the Sadducees and the Pharisees were competing religious movements within the Judaism of the time; and, 2) debate was a normal part of religious discussions, a tool for discerning truth and application. This second point is important because not all the questions directed at Jesus were meant to test him; although, having said that, this question certainly was.
Before the scene of our scripture focus, Jesus had just bested the Sadducees with his response to their question. The Pharisees then "came together". Matthew's description of this moment depicts them as either trying to work out how they might challenge Jesus or, perhaps, how they might avoid him. Whether they were concocting a plot or not, one of them, a so-called "expert in the law", stepped forward and asked Jesus, "Which command in the law is the greatest?"
If Matthew had not here included the qualifier, "to test him", I would not recommend reading this question as a test to challenge Jesus. This is a legitimate question in all times and places, for every man, woman and child will eventually ask, "What is the right way to live? How am I to make my way in the world?"
The question of this so-called "expert" could easily have been asked by a numskull or a larrikin and be just as genuine and just as much a test. Offer an answer to this question that steers a person wrong and one becomes responsible for the course of that person's life choices.
Whether genuinely asking for advice or not, this question WAS a test for Jesus, as it would be for any parent or teacher or coach or counsellor or friend. The expert, a member of the Pharisees, was trying to discredit Jesus; yet, his answer far surpassed any that anyone else could offer.
He said to him, "Love the Lord your God with all your heart, with all your soul, and with all your mind. (Matthew 22:37)
Jesus' answer is a direct quote from the Old Testament, from The Book of Deuteronomy, chapter 6, verse 5, thus demonstrating his superior biblical knowledge and irrefutable logic. Notwithstanding, Jesus' answer to them is ancient wisdom. Jesus was not making up anything new here. Loving God, our creator, is the best advice anyone can follow for it has stood the test of time, and thousands upon thousands of people have proved its worth in a wide variety of times, places and situations. The writer of Ecclesiastes said it almost as well as Jesus:
When all has been heard, the conclusion of the matter is this: fear God and keep his commands, because this is for all humanity. For God will bring every act to judgment, including every hidden thing, whether good or evil. (Ecclesiastes 12:13–14)
To love God, as the highest ideal, is to recognise that you are not the centre of your universe, nor anyone else's. You have been created, you are second, you are not the highest authority.
This truth helps us to ascertain our place in the hierarcy of life and our identity as valued persons. We are not valuable in and of ourselves,  but we are valued. So love the Lord our God; direct your affection to him; serve him in all you do. Do not worry about your status or your resources or your reputation, for his promise to those who love him is,
But seek first the kingdom of God and his righteousness, and all these things will be provided for you. (Matthew 6:33)
This is truly the best advice Jesus or anyone could give … but, wait, there's more!
The second is like it: Love your neighbor as yourself. (Matthew 22:39)
Now here's the thing: Jesus' first answer would not have raised any eyebrows. This was Judaism's most fundamental, ancient and widely recited biblical passage after all, known as the Shema. It is recited daily by observant Jews even today. However, Jesus was unwilling to leave it there. He then added another command: "Love your neighbour as yourself."
On its own, this command is not controversial. The controversy is in how it is "like" the command to love God. Does that make them equal to each other? For Jesus, these two commands summarise his own mission and ministry. Commentators tell us,
In quoting the Shema, Jesus points out that the aim of the law is to orient one's entire life toward God. However, one cannot love God without loving what God loves! One cannot love God and oppress or exclude any of God's creatures—even one's enemies. While the scribes and Pharisees used the law to place severe limits on those whom they were obliged to recognize as their neighbors, Jesus joins these texts in order to smash all the limits and boundaries of neighborliness.[3]
Within the 'rules' of Judaism, these Pharisees did not have to agree with Jesus' answer. They could merely accept that he had given a good answer and then move on. He had met the expert's test satisfactorily.
For the friends of Jesus, however, we do not have that luxury. For us, this is the greatest commandment! These are our guiding principles every moment of every day, in every situation! This means do no harm by avoiding evil of every kind and do good as often as you can to as many as you can. This is not an optional extra; it is the core of our faith and practice.
Whose Son Is He?
The Pharisees and their "expert" tested Jesus. He both met and passed their test. Jesus silenced his challengers with his knowledge and wisdom.
Not willing to revel in his victory and leave with the champion's belt around his waist, Jesus 'got one more punch in' by then posing his own test to the Pharisees:
While the Pharisees were together, Jesus questioned them, "What do you think about the Messiah? Whose son is he?" They replied, "David's." (Matthew 22:41–42)
This question is a bit of a wordplay for theological nerds. It is a significant question, but not one we need to dwell on too much. With his question, Jesus made an important point about the Messiah promised by God throughout scripture, yet not a point they would fully understand because they did not yet understand what and who the Messiah would be. They could not recognise the Messiah when he was standing right in front of them!
All these religious leaders knew is they needed a messiah because the times were perilous and uncertain. It was very clear to anyone with eyes and ears open there was nothing a mere human could do to rescue the oppressed and afflicted. Humanity needed an intervention from God and he had promised such in a messiah, a saviour, a suffering servant who would be a "son" of King David.
With all the hopes and dreams of the Pharisees and the people of Israel, Jesus' identity as the promised Messiah surpassed all of the traditional expectations. He himself fulfilled the law and the prophets (Matt. 5:17) but they did not have the eyes to see nor the ears to hear!
Honestly, his question has little meaning for us, but it was the kind of question meant to provoke the Pharisees into an understanding of their times; a question to help them understand their hopes and dreams were being fulfilled IN THEIR PRESENCE. They just could not see.
Can you see? Does your despair at the perilous and uncertain times in which we live destroy your hopes and dreams?
As we make our way in life, if we place our faith in Jesus and strive to live a Christian lifestyle, following Jesus' example, we will be tested and challenged along the way, for we will not be following 'the party line'. We will not seek the excesses and self-centeredness of fallen humanity. When one walks against the grain, he can expect to bump into other people and they will not like it. They will challenge and test you just as they tested and challenged Jesus' right to display his power for the good of others and his authority to teach based on his wisdom.
Be Prepared For Tough Questions
You may be wondering how you are to follow Jesus' example?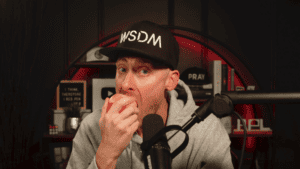 Stand To Reason is an apologetics ministry with a Youtube channel called "Red Pen Logic". In a segment called, "How to DISMANTLE Loaded Questions While Enjoying An Apple",[4] teacher and host Tim Barnett draws our attention to a Canadian politician who DISMANTLES loaded questions from a reporter ... while enjoying an apple. This is a masterclass in asking questions when one is being tested.
None of us here are politicians or likely have any reason to be questioned by reporters, but we each will be asked, so we must be prepared for tough questions about our faith and our lifestyle. From the example of this politician, Barnett highlights how he responds to the reporter's questions calmly, even eating a apple, all while maintaining his composure. This is the first principle of being prepared for tough questions: Stay calm.
The politician dismantles the reporter's disrespect and challenging questions by himself asking two types of simple questions. This first was he asked clarifying questions. Each time the reporter made a claim about the politician, he laced his question with accusations. The politician simply asked him to please explain what you mean by that. That is the second principle of being prepared for tough questions: Ask clarifying questions.
When someone says something and you're not sure what they mean, or someone makes an accusation against you, it's important to clarify what they mean. Do not let them get away with their subtle accusations and insults.
The final principle to take from this video about being prepared for tough questions is: Ask for proof. Under the guise of asking questions, the reporter is making false claims about the politician who calmly asks the reporter for proof. When has he used left-right language? When has he taken a page out of Trump's book? When has he acted like a populist? If someone accuses you, ask for proof of the accusation. You have that right. You are innocent before being proven guilty.
Just as Jesus masterfully dealt with the tough questions and testing of the religious leaders who felt threatened by his ministry, we can do so to by asking clarifying questions, asking for proof and, above all, staying calm.
Be Prepared To Ask Your Own Tough Questions
Like Jesus, we do not have to simply take the abuse of other people's tough questions. From the standpoint of our faith and lifestyle, we have questions of our own that need to be asked because no one seems to be asking them:
When other international jurisdictions are placing moratoriums on medical treatments and surgeries for under-age children, why is Australia pushing through such dangerous legislation?
Elected officials responsible for women's health and other issues will not answer the simple question, "What is a woman?" Why? How can they protect women in Australia if they will not admit a woman is a biological female?
Why is the NSW Government cutting the funding of dignifying end-of-life palliative care and reallocating $150 million toward the implementation of voluntary-assisted-dying laws. They are prioritising funding life-ending services over life-affirming care and it is appalling.
In our liberal Western democracy, we have a right to know. The friends of Jesus have a right to ask these tough questions because our faith encourages us to be engaged in works of mercy like feeding the hungry, clothing the naked, caring for the sick, visiting those in prison, sheltering the homeless, welcoming the stranger, peacemaking and serving the common good. These are the values we stand for in our lifestyle because of our faith.
If we do not ask these tough questions, with gentleness and respect, how will our society know what is the common good that sensible persons with integrity value?
Conclusion
If the Church is living as a Spirit-filled community, the world will test us. Yet the Spirit will lead us to test the world. It is a delicate balance but souls are at stake!
Endnotes
[1]A video of this movie clip is available on Youtube at https://replug.link/41e98290 (accessed 3-Nov-2023).
[2]Unless otherwise noted, all scripture quotations are taken from The Christian Standard Bible (Nashville, TN, USA: Holman Bible Publishers, 2017).
[3]Tim Beach-Verhey, "Theological Perspective on Matthew 22:34–46", Feasting on the Word: Preaching the Revised Common Lectionary: Year A, ed. David L. Bartlett and Barbara Brown Taylor, vol. 4 (Louisville, KY, USA: Westminster John Knox Press, 2011), pg 214.
[4]Tim Barnett, "How to DISMANTLE Loaded Questions While Enjoying An Apple", Red Pen Logic, 20-Oct-2023, https://replug.link/fbd4d100 (accessed 3-Nov-2023).