Our Mouths Reveal Our Motives: Cherish Jesus
A Promotion Can Be Dangerous
Would it surprise you if I said that accepting a promotion at work can sometimes be the wrong thing to do?
In our day and age, if you do well at your job, you tend to get promoted. The problem is you can be promoted to a job for which you are not actually competent. The stress may then overwhelm you, your character will start to break down, and those who rewarded you with the promotion might start to think maybe they made a mistake.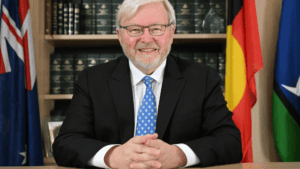 The worst example of this I can think of was our former Prime Minister Kevin Rudd, who had several instances of public outbursts well-documented in the media:
Air Force Steward Incident (2009): Rudd reportedly had a heated exchange with an Australian Air Force steward over a meal service during a flight. The incident was widely reported in the Australian media.
Chinese Interpreter Incident (2007): During his stint as Foreign Minister, Rudd had a controversial exchange with a Chinese interpreter while giving a speech in Beijing. He was accused of berating the interpreter for his translation skills.
Leaks about Demeaning Behavior: There were frequent leaks from anonymous former staff members about Rudd's alleged temper tantrums, making harsh demands, and demeaning behaviour towards his employees.
Swearing Video (2012): A video surfaced on the internet showing Rudd swearing and expressing frustration while trying to record a message in Mandarin. While this wasn't a public outburst in real-time, it did give the public a glimpse into his behaviour behind closed doors.
I draw attention to these instances not to suggest Rudd was not a competent Prime Minister, but character matters more than competency. And try as hard as we might to keep our mouths under control, they will reveal the state of our heart eventually.
How then might we turn our disordered heart into a right heart?
They Had It Wrong and Did Not Understand
Our scripture focus has two parts to it which point us in the correct direction for transforming our hearts.
Our scripture focus from The Gospel According to Matthew starts by continuing the story of Jesus and his disciples after he walked out to them on water. He had done this because they were traveling together by boat to the other side of the Sea of Galilee and Jesus wanted to join them. So, revealing himself to be a bit of a show-off, he joined them out in the middle of the sea —well, if you can walk on water, why wouldn't you? ☺
Jesus and his disciples reached the northwestern shore of the sea, coming to a village between Capernaum and Magdala called Gennesaret, a place where Jesus had performed many miracles. After healing many of the locals of their sicknesses, he got into a bit of a stoush with some religious leaders.
These religious leaders were very concerned about Jesus and his disciples not washing their hands before they eat. They took offense because Jesus' teaching ran counter to their own (Mk 7:2-5; 15:1).[1] Rather than interact with the truth of his teaching, they grumbled against God.
In rejecting Jesus and his teaching, these Pharisees became the "weeds" rather than the "wheat" of his earlier parable (Mt 13:36-43). Even worse, they lead others into sin through negligence at best or intentionally at worse (cf. Rom 1:28-32).
Then Peter said, "Explain this parable to us." "Do you still lack understanding?" he asked. (Matthew 15:15–16)
Last week, I noted how Jesus was gently critical, yet tender, toward the "little faith" displayed by Peter. In our scripture focus, Jesus is not tender at all toward the lack of understanding shown by the religious leaders and his disciples (Mt 15:12-16). His teaching was not a parable. His point was fairly obvious and did not need to be complicated by the Pharisees (Mk 7:2-5).
For from the heart come evil thoughts, murders, adulteries, sexual immoralities, thefts, false testimonies, slander. These are the things that defile a person; but eating with unwashed hands does not defile a person." (Matthew 15:19–20)
Jesus' point is not hard to understand: A disordered heart is a primary cause of sin. For out of a person's heart comes: (1) evil thoughts; (2) murders; (3) adulteries; (4) sexual immoralities; (5) thefts; (6) false testimonies; and, (7) slander. Thinking and speaking and acting in these ways are what defile a person (Mt 15:17–20).
Depending upon a person and his or her particular weakness, a disordered heart can cause poison to break out in many ways. We can hide that disorder, but our mouths reveal our motives, revealing the state of our heart.
Pride
Pride is a poison. It is an excessive belief in one's own worth, merit or superiority.[2]
It is written in The Book of Proverbs,
Pride comes before destruction, and an arrogant spirit before a fall. (Proverbs 16:18)
A prideful heart will always reveal itself in what we say and in how we talk to and about others.
The antidote to the poison of pride is humility, which is an absence of pride or arrogance.
The parable of the Pharisee and the tax collector in Luke 18:9–14 is a perfect contrast between pride and humility.
Covetousness
Another poison that erupts from a disordered heart covetousness. Covetousness involves greed, possessiveness, and envy. A covetous person has an over-eagerness for material goods or even someone else's possessions.
The biblical injunction in The Book of Exodus could not be any clearer:
Do not covet your neighbour's house. Do not covet your neighbour's wife, his male or female servant, his ox or donkey, or anything that belongs to your neighbour. (Exodus 20:17)
Ephesians 5:5 tells us that in his or her greed, a covetous person is an idolater and has no inheritance in the kingdom of God.
The antidote to the poison of covetousness is magnanimity, philanthropy or generosity.
Lust
Another poison is lust, which is defined as: (1) A desire to gratify the senses or bodily appetites; (2) sexual desire, especially seeking unrestrained gratification; and, (3) desire to master over, as a lust of power or pleasure, etc.
Strategies and practices that can help manage lust include:
Mindfulness, prayer and meditation, which will help you become aware of your feelings and thoughts, and may provide some distance from them.
Self-discipline and self-control will help you manage lustful thoughts and feelings, and could include setting boundaries for yourself or avoiding situations that trigger these feelings.
Healthy activities and hobbies can distract you from lustful thoughts. This could be anything from sports to painting.
Remember, lust is a normal human feeling, but like any emotion, it's important to manage it in a way that is healthy and respectful to yourself and others, to prevent it from further poisoning you and your relationships.
Anger
Anger is a feeling that may result from injury, mistreatment, opposition, etc.
It is recorded in The Gospel According to Matthew that Jesus said,
But I tell you, everyone who is angry with his brother or sister will be subject to judgment. Whoever insults his brother or sister, will be subject to the court. Whoever says, 'You fool!' will be subject to hellfire. (Matthew 5:22)
When left unchecked, resentment and anger exacerbates a disordered heart and can make us ill, like deadly poison.
Our Lord's antidote for anger is forgiveness, unconditional forgiveness and forbearance.
Gluttony
Finally, a disordered heart harbours gluttony, which leads to a person eating, drinking or indulging to excess. In The Book of Proverbs it is written,
Don't associate with those who drink too much wine or with those who gorge themselves on meat. For the drunkard and the glutton will become poor, and grogginess will clothe them in rags. (Proverbs 23:20–21)
Do we eat to live or live to eat? We should eat to live. The antidote to gluttony then is moderation.
We should serve the Lord and not our own appetites. We should live soberly, quietly with contentment, without greediness, gluttony or drunkenness.
Pride, covetousness, lust, anger and gluttony come from a disordered heart, and our mouths will reveal the motives underlying our thoughts, words and actions.
The religious leaders at Gennesaret had it wrong and the disciples did not understand that when you and I stand before the throne of The Ancient Of Days, he will not ask you if you washed your hands —your parents might, and it is a good thing to do, but God The Father is more concerned with the state of your heart. And there is no hiding the state of your heart. You can think you are a "good person", but the motives under even your "goodness" will come out and your mouth will reveal the real state of your heart.
A Right Heart Is Entirely Possible
The opposite of a disordered heart is a heart that is right with and before God.
Lest you think having a right heart is not possible and give up applying any effort to it, the second part of our scripture focus provides just such an example of a right heart. It describes an ordinary woman with a simple faith, but a faith which should embarrass all of us, when we consider the many times our mouths have revealed the disorder we harbour within.
When Jesus left there, he withdrew to the area of Tyre and Sidon. (Matthew 15:21)
When Jesus and his disciples left Gennesaret, they traveled to the area of Tyre and Sidon, which were Gentile coastal ports north of Galilee, in the ancient region of Canaan.
Just then a Canaanite woman from that region came and kept crying out, "Have mercy on me, Lord, Son of David! My daughter is severely tormented by a demon." (Matthew 15:22)
A woman of that area approached Jesus and asked him to exorcise her daughter, but did so in a quite intrusive and annoying way.
Take note of the fact this was not an Israelite woman but what they would have called a Gentile woman, from the land of Canaan. She did not grow up in the Jewish faith, was not steeped in its stories. Yet she called Jesus "Lord" and "Son of David". She was what was called, at the time, a God-fearer, a person converted to the Jewish faith without necessarily taking on their culture practices.
This Gentile woman took the time and exerted the effort to get to know and understand the Jewish religion and scriptures. She then heard enough about Jesus and seen enough to believe he had great spiritual power. She placed her faith in him to a degree far beyond most of Jesus' target audience, which is why he commended her great faith.
Jesus did not say a word to her. His disciples approached him and urged him, "Send her away because she's crying out after us." (Matthew 15:23)
This woman's need was also great and so she did not shy away from trying to get Jesus' attention. In other instances, Jesus had been drawn to such people (Mk 10:47), but judging from the description of the moment, he ignored her. That seems really out of character for Jesus. What's going on?
The disciples then encourage Jesus to send her away. At first glance, it would seem like they wanted Jesus to rebuff her and reject her request. Judging from Jesus' response, it is more likely they wanted Jesus to quickly heal her so she would leave them alone and stop annoying them.
Sadly, both of these possibilities are entirely within character for Jesus' disciples.
He replied, "I was sent only to the lost sheep of the house of Israel." (Matthew 15:24)
We are still left wondering why Jesus ignored her at first. The answer is revealed in his response to his disciples. He explained to them he was "sent only to the lost sheep of the house of Israel".
Jesus here declared his own mission was primarily to the people of Israel, his "family" by descent. These were the ones in covenant with Yahweh, whom Christians know of as God The Father. So, Jesus' message was targeted to them specifically, using language and idioms drawn from the Old Testament in which they were all steeped.
This does not mean Jesus does not care for Gentiles. He does. Whatever was going on for him in that moment, he felt he needed to help his disciples understand the nature of his mission in comparison to what would become their mission.
From the story as Matthew told it, we cannot know whether she heard Jesus say this or not. If she did, she may have walked away, but instead she knelt before him and implored him, "Lord, help me!"
I have to be honest with you: Jesus' next statement is entirely shocking and out of character for him.
He answered, "It isn't right to take the children's bread and throw it to the dogs." (Matthew 15:26)
Jesus was here using a proverb that was likely common to the Middle East at the time; so, no, he was not calling her a "dog", yet admittedly, it does have a touch of racism to it. The point is Jesus was testing her: Did she really believe in him or was she merely using him for his 'magic'.
"Yes, Lord," she said, "yet even the dogs eat the crumbs that fall from their masters' table." (Matthew 15:27)
The woman matched his softly racist proverb with a potent display of humility: "Yes, Lord," she said, "yet even the dogs eat the crumbs that fall from their masters' table."
The Canaanite woman did not respond as if Jesus had belittled her or 'put her in her place'. She was not offended by him, but was engaging with him, thus revealing her request was heartfelt and her response was humble. She had reflected deeply on the teaching and works of Jesus.
The woman asked not that she herself be healed, but that Jesus would show mercy on her by healing her daughter.
Then Jesus replied to her, "Woman, your faith is great. Let it be done for you as you want." And from that moment her daughter was healed. (Matthew 15:28)
Oh, that we all would have such faith as hers! And this is precisely why Jesus commended her great faith over others for:
She harboured no pride, but demonstrated humility.
She harboured no covetousness, but demonstrated generosity by asking for the healing of another.
She harboured no lust, for she did not desire anything for herself.
She felt no anger, despite the offense alluded to her.
She exhibited no gluttony, for she was not seeking an excess but only what was needful.
In her request and then her response to Jesus, this woman's mouth revealed the motives of her heart. The Canaanite woman's character was shaped by her increasing awareness of the One, True God, and her devotion to seek and find, for as it is written,
You will seek me and find me when you search for me with all your heart. (Jeremiah 29:13)

I love those who love me, and those who search for me find me. (Proverbs 8:17)
The antidote to pride, covetousness, lust, anger and gluttony is cherishing the teaching and example of Jesus. If you recognise the beauty in Jesus' teaching and value the goodness of his example, you are more likely to pursue and achieve goodness for yourself. The more you read about, reflect and meditate on his goodness, the more the Holy Spirit will transform your character to be more like Jesus. Your disordered heart will become right, your motives will become pure.
Be diligent in self-control, not by putting on a façade of gentle speech, but by following Jesus' example. You will be more likely to follow his example if you cherish it, if it is precious and valuable to you.
When you make mistakes and your disordered heart erupts, then follow Jesus' teaching by seeking forgiveness and reconciliation.
Conclusion
If our mouths reveal the motives of our heart, then we had best deal with the repercussions by adopting humility against pride, generosity against covetousness, self-control against lust, forgiveness against anger, restraint against gluttony. Cherish Jesus' example to follow Jesus' example.
Endnotes
[1]Unless otherwise noted, all scripture quotations are taken from The Christian Standard Bible (Nashville, TN, USA: Holman Bible Publishers, 2017).
[2]Adapted from a sermon outline provided by Maze Jackson, "The Evil Heart," ed. Maze Jackson, Golden Nuggets 19 (1983).