Is Jesus' Resurrection Fact or Fiction? (an Easter sermon)
Liars, Muddlers and Dreamers
Author Jeff Minick, writing for Intellectual Takeout,[1] has noted,
Among our elites —those in government, corporations, universities, the mainstream media, and the culture at large— are many who fall into three categories: the liars, the muddlers, and the dreamers of the day.
Minick defines the liars as those who, "look straight into a camera or the eyes of an audience and boldly proclaim as truth what many listeners know to be false". An example would be Queensland's Chief Health Officer during the COVID-19 pandemic, Dr Jeannette Young, whose husband served as an advisor to the multinational pharmaceutical company Pfizer. This should have been cause for her dismissal, as this was a clear conflict of issue. Instead, Dr Young was elevated to the governorship by QLD Premier Annastasia Palaszczuk.
The muddlers are those who deliver stories by mixing fact with fiction, and they dominate in today's mainstream media. An example of the muddlers would be SBS, who continue to claim the Let Women Speak rallies are anti-transgender, rather than the stated purpose to promote women's issues.
Finally, we have the dreamers, those who, "deliberately weave their webs of lies and half-lies to undermine" society.  They have dreams, will do anything to realise those dreams, and the consequences are evident all around us: "the ruin of our economy, the corruption of our courts and our elections, the division among our people, and the destruction of trust in our major institutions". After introducing bills to formally legalise abortion and voluntary assisted dying, NSW MP Alex Greenwich will seek to progress major reforms for the LGBTQ+ community and working with the government towards a review of the Anti-Discrimination Act and changes in the Anti-Discrimination Act.
Identifying the liars, muddlers and dreamers controlling and directing our society reveals a worrying state of affairs: Who can we trust? What is really happening around us and behind the scenes? Who will lead us out of this chaos and confusion toward a better future?
High rate of pastor burnout
When we cannot answer these basic questions satisfactorily, we become stressed.[2] Do you know what happens when your stress has no focus and no apparent resolution? You experience burnout, with symptoms characterised by feelings of energy depletion or exhaustion; increased mental distance, or feelings of negativism or cynicism; and, reduced efficacy in your daily tasks.
One occupation that should know better how to avoid burnout, but is instead reporting increasing levels, is that of pastors.
According to the Barna Research Group,[3] between 2015 and late 2022, among the pastors surveyed, in just seven years, those reporting 'Excellence' in their:
Spiritual well-being dropped from 37% to 14%
Physical well-being fell from 24% to 9%
Mental and emotional health plummeted from 39% to 11%
Overall quality of life dipped from 42% to 18%
Level of respect they felt from the community tanked from 22% to 10%
Level of 'true friends' dropped by 50% from 34% to 17%
Because the well-being and health of a leader impacts the health of an organisation or community, we'll see a ripple effect of pastoral exhaustion that could damage churches for years to come.
As a consequence, in 2015, 72% of pastors said they felt "very satisfied" with their job as pastors; in late 2022, just 52% of pastors were "very satisfied with their jobs". Additionally, over 40% consistently answered yes when asked if they seriously considered quitting their ministry. That's an almost 400% increase since 2015 when that number was just 11%.
How quickly have things changed.
Between emotional exhaustion, chronic stress, and the ramp-up in pastors experiencing burnout, this is yet one more symptom life has never felt more difficult for everyone, even among those who should know better. We are all feeling it.
What & Why?
Who to trust? What is happening? Who will lead us toward a better future? If you don't have answers to these questions, you will burnout or give up.  Some commentators have called recent times, "The Great Resignation".[4]
But it seems as if there is no one on the horizon who can lead us out of this mess. Or is there?
Now, of course, you expect me to say, "Jesus is the answer!", and you would be correct. However, I am not so naïve as to think you will believe Jesus can lead us to a better future any more than you can trust anyone else.
What can I say that will inspire you to believe what he said about himself, and that what is written about him, is true?
Explanation
Healing a Man Born Blind
According to The Gospel of John, Jesus saw a man blind from birth.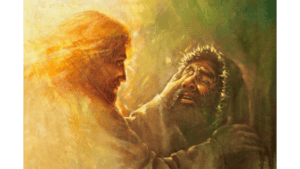 He saw him, had compassion on him, and gave him sight.
After his healing, local religious leaders questioned the man.  They scoffed when he told them Jesus gave him his sight. The once-blind man then made an insightful retort to the religious leaders that is as potent today:
"This is an amazing thing!" the man told them. "You don't know where he is from, and yet he opened my eyes … Throughout history no one has ever heard of someone opening the eyes of a person born blind. If this man were not from God, he wouldn't be able to do anything." (John 9:30–33)[5]
While there have indeed been incredible medical advances in bringing some level of sight to persons born blind, that sight is synthetic and will never achieve the quality of sight enjoyed by a person born seeing.
The account of Jesus giving sight to this man born blind is nothing less than a wonderful miracle.  It tells us God intervened in the natural affairs of human physical development and gave sight where once there was none.  This is a powerful validation of Jesus' ministry.  However, there is more.
Raising a Dead Man
There is another compelling story involving yet another miracle affecting a physical body: Jesus resurrected a man that had died.
Then Jesus, deeply moved again [by the death of his friend, Lazarus], came to the tomb. It was a cave, and a stone was lying against it. "Remove the stone," Jesus said.

Martha, the dead man's sister, told him, "Lord, there is already a stench because he has been dead four days"…

[Jesus] shouted with a loud voice, "Lazarus, come out!" The dead man came out bound hand and foot with linen strips and with his face wrapped in a cloth. Jesus said to them, "Unwrap him and let him go." (John 11:38–44)
You have every right to be sceptical, but this was no mere resuscitation!  Lazarus had already been dead for four to five days.  His body had been washed, wrapped in linen clothes, and placed in a cave sepulchre tomb.  Lazarus should be thankful he was not an Egyptian, where they practised primitive embalming!
Like the restoration of sight to the man born blind, Jesus here demonstrated his divine power over the physical world by doing the unthinkable: bringing a dead man back to life, in sight of a large crowd, leaving no room for scepticism.  Indeed, people in the crowd converted to Jesus' teaching after witnessing Lazarus' resurrection. Yet, just a verses later (Jn 11:45-57) provide an insider's view on a plot to kill Jesus that developed after this miracle because of the envy of some religious leaders due to Jesus' power and teaching.
Raising Himself From the Dead
Every year, at Easter, this emphasis on the physical is carried to its most extreme in the recounting of Jesus' own resurrection from the dead.  Like Lazarus, Jesus was thoroughly dead —the spear pressed into his side by the soldier, resulting in an outpouring of water and blood, is conclusive proof of his death— and like the man born blind, not since the beginning of the world has it been heard of anyone bringing themselves back to life after having died.
Arguably the world's most successful magician, David Copperfield is able to astound a live studio audience with the disappearance of the Statue of Liberty, walking through the Great Wall of China, and levitating across the Grand Canyon.  While Mr Copperfield has escaped death on many occasions, he has yet to die and bring himself back to life.
Imagine what would happen if Mr Copperfield did die during one of his magical stunts?  Let's imagine that in 1993, when he was hanging from burning ropes 13 stories above the ground, he didn't actually escape from his bondage, but instead plummeted to his death.  Surely, doctors standing by would have done their "DR ABC" first aid routine to ascertain his condition.  But, upon realising his breathing and pulse had stopped, would they have stepped back and waited for him to 'do his hocus-pocus' and 'astonish audiences worldwide'?  Of course, not!
The Wrong Em-PHA-sis[6]
Interestingly, by the time the Gospels were written, the Christian mission to the non-Jewish, otherwise known as "Gentiles", was well underway and quite successful —indeed, The Gospel of Luke was clearly written for a Gentile audience.  With the Christian message extending itself to a Gentile audience, why did the Gospel writers and early Christians promote the physical nature of the resurrection of Jesus?
The early Christian leaders were certainly conscious of not wanting to unnecessarily offend the Gentiles.  This can be seen in such a passage as Acts 15 where the decision of the Jerusalem Council regarding new Gentile converts is described:
Since we have heard that some without our authorization went out from us and troubled you with their words and unsettled your hearts … it was the Holy Spirit's decision—and ours—not to place further burdens on you beyond these requirements (Acts 15:24–28)
The fact is Gentiles would not have been particularly attracted by this assertion of a physical resurrection.  Consider the rejection Paul encountered in Athens when he declared Jesus had been raised from the dead:
…When they heard about the resurrection of the dead, some began to ridicule him… (Acts 17:30–32)
Resurrection was not a typical religious expectation for Paul's multicultural audience; thus some scoffed.[7]
As any reasonable person will agree, if I want to convince you of some opinion I hold, I should not argue topics I already know will offend you —indeed, that is why no one talks to anyone anymore, since it has become a hate-crime to cause offense.
If, even today, we are so offensensitive, we can imagine therefore something must have happened to Jesus' body on that first Easter, and he must have appeared to his disciples, for this notion of a physical resurrection to have been emphasised so boldly and broadly in the early Church —the disciples weren't trying to prank everybody![8]
If it were merely the case Jesus' body disappeared at Easter, the first disciples could have more easily promoted the belief he was taken up into heaven, like an Elijah or an Enoch.  This would certainly have also attracted people to Jesus' message as Elijah remains quite popular even today.  But Gospel traditions, such as found in John 20, make it evident an empty tomb by itself was open to a variety of interpretations, including grave robbing.
What about the mass vision or hallucination theory some propose?  This category of explanation suggests the disciples were victims of a hallucination, or that their experience was simply the ultimate example of wish projections, or even that they merely saw visions.  In countering these objections, let us recall the disciples doubted, deserted, and denied Jesus at the end, with the possible exception of some of his female followers and perhaps John. The disciples were hardly in a psychological condition to produce a fantasy about a risen Jesus, since their hopes had been utterly shattered by his crucifixion less than three days before.
Also, we must remember Jesus appeared at different times and places to different persons, and last of all to Paul.  There is no basis from which to argue for a contagious hallucination or psychological delusion on the part of the apostles that continued for years afterward —that would have to be a powerful delusion!
Neither is it believable the earliest Christians would have invented this story of Jesus' physical appearance.  Why indeed would they write and promote he appeared first to some women, given the patriarchal world of the earliest Christians —this story would not have served their missionary intentions at all well —in fact, the apostle Paul later left the women out of his report of Jesus' appearances (1 Cor 15:1–8).
Other than Paul's quick list, we find no extended discussion in the Gospels of Jesus' appearances to Peter or to his brother James or to any other of the male disciples, but we do have an extended description of his appearance to the leading female disciples.
Nor is there any basis for the suggestion these appearance stories were largely generated out of the Old Testament, which hardly mentions the notion of resurrection from the dead at all —which explains the rejection of Jesus by the Sadducees.
Taken all together, we cannot redefine "resurrection" in any way so as to allow for a different understanding of what happened to Jesus body —if, that is, we wish to preserve any continuity with the historical Christian witness on this matter.
Emphasising Jesus' physical resurrection was the wrong em-PHA-sis for the time and place.
Keeping the Resurrection Central
Whether we are comfortable with it or not, Christianity does indeed stand or fall on certain historical facts —not merely historical claims, but historical facts.  Among these facts that are most crucial to Christian faith is that of Jesus' physical resurrection from the dead.
If Christ has not been raised, then our proclamation is in vain, and so is your faith. (1 Corinthians 15:14)
The Christian faith is not mere faith in Faith, but rather a belief about the significance of certain historical events.  Paul was quite right to say that if Christ was not raised, Christians are the most pitiful of all human beings (1 Cor 15:14).  We believe in a lie if Christ has not been raised.
Any position in which claims about Jesus or the resurrection are removed from the realm of historical reality and placed in a subjective realm of personal belief, or some realm that is immune to human scrutiny, does Jesus and the resurrection no service and no justice.  It is a ploy of desperation to suggest Christian faith would be little affected if Jesus was not actually raised from the dead in space and time.  This is the approach of people who want to maintain their faith at the expense of historical reality or the facts.
A person who gives up on the historical foundations of the Christian faith has in fact given up on the possibility of any real continuity between his or her own faith and that of a Peter, Paul, James, John, Mary Magdalene, or Priscilla —a faith the early Christians lived and died for.  They had an interest in historical reality, especially the historical reality of Jesus and his resurrection, because they believed their faith, for better or worse, was grounded in it.
I, myself, can recount an experience of such belief in the worse kind of believers.  When I was studying for my Bachelors degree at Queen's University in Canada, I attended an Introduction to Systematic Theology course with 12 other students, eleven of which were studying to be ministers.  When we came to our discussion of Jesus' resurrection, the only ones who defended a physical resurrection were I and the other student not-training-to-be-a-minister.  Not even the professor believed in a physical resurrection, choosing rather to believe Jesus was a ghost!
It is important also to recall this faith of the early Christians was not something conjured up generations or even years later than the time of Jesus' life.  Paul himself was in direct contact with various eyewitnesses to the life, death, and resurrection appearances of Jesus.
[Jesus] was buried, that he was raised on the third day according to the Scriptures, and that he appeared to [Peter], then to the [other disciples]. (1 Corinthians 15:4–5)
It is striking that in Paul's letters, nowhere does he have to argue with other major Christian leaders about his views on the resurrection and the risen Lord.  Indeed, he suggests in Romans 10, Philippians 2, and elsewhere that the common and earliest confession of all these first Christians was, in fact, that "Jesus is the risen Lord".
Furthermore, he suggests in 1 Cor 15:1–5 that the earliest Christians also held very particular beliefs about the end of Jesus' earthly life and the transition to his present heavenly state as the risen and exalted Lord.  Paul wrote 1 Corinthians 15, within twenty-five years of Jesus' death, while various original eyewitnesses were still around to correct him.  The silence of his Christian peers on this issue compared to their criticism of his views on the law (see Galatians) is deafening.  It shows where the common ground truly lay.
The outline and some elements of these narratives of Jesus' resurrection can already be found in Paul's letters in places like 1 Corinthians 11 and 15.  It was the startling things that happened to Jesus at the close of his earthly career —his shocking crucifixion and then his equally astonishing resurrection— that caused the earliest Christians to race back to their sacred Scriptures to help them interpret the significance of these events.  They did not first find these events in the Old Testament prophecies and then create new stories out of the old prophecies.  This is shown most clearly by the fact that many of the texts used to interpret the key final events of Jesus' life, in their original contexts in the Hebrew Scriptures, would not have suggested such things to a reader who had not heard of Jesus' life, death, and resurrection.  I know of no evidence that early Jews were looking for a resurrected messiah, and in fact, the suggestion they were looking for a crucified one is also very doubtful.
H. Dodd, it is said, once proposed the story of Mary Magdalene at the tomb was one of the most self-authenticating stories in all the Gospels. In his view, it had all the elements of the personal testimony of an eyewitness. First, knowing what the tradition said about Mary Magdalene's past (see Luke 8:2), it is hardly credible the earliest Christians would have made up a story about Jesus appearing first to her.
Second, it is not credible to argue a later Christian hagiographer would have had her suggest that perhaps Jesus' body had been stolen from the tomb.
Third, it is not believable that later reverential Christians would have suggested that the first eyewitness mistook Jesus for a gardener.  The portrait of Mary and her spiritual perceptiveness is hardly flattering here.
Fourth, it is not believable early Christians would have created the idea that Jesus commissioned Mary to proclaim the Easter message to the Twelve —in this act, she became the first evangelist.  On this last point we have the clear support of 1 Corinthians 15, when we see that the witness of the women to the risen Lord, if not totally eliminated from the official witness list, was clearly suppressed.
There is no faith in Jesus worth having if we try to downplay, ignore or remove his resurrection. Jesus' resurrection is central. Let's keep it that way.
Conclusion
Jesus Offers Life
The writers of the Gospels, like other early Christians, were hoping to share the good news of Jesus' resurrection to the ends of the earth, for they knew the real benefits of placing one's faith in Jesus.  As it is written,
But these are written so that you may believe that Jesus is the Messiah, the Son of God, and that by believing you may have life in his name. (John 20:31, emphasis added)
The first Christians believed Jesus' resurrection proved the reality of and provided the way to a better and truer way of life, a life transformed now, that endures into eternity, as it is written,
This is eternal life: that they may know you, the only true God, and the one you have sent —Jesus Christ. (John 17:3, emphasis added)
This is not a life of confusion or chaos, but of abundance, as it is written,
A thief [or liar or muddler or dreamer] comes only to steal and kill and destroy. I have come so that [you] may have life and have it in abundance. (John 10:10, emphasis added)
In contrast to the liars, muddlers and dreamers, Jesus offers clarity and certainty, a transformed life now that lasts into eternity, and is far better than you can imagine or achieve for yourself.
What is stopping you from placing your faith in Christ Jesus even now?  Or will you continue to trust and follow the liars, muddlers and dreamers seeking to destroy you and all you hold dear for their own advancement and profit?
The Right Emphasis
A consistent witness to Jesus' physical resurrection runs throughout the Bible and this provides conclusive evidence Jesus' resurrection and physical appearances provide the key to explaining the birth of the early Church and the disciples' commitment to sharing this good news.
Why then did Jesus prevent Mary from grasping him?
Jesus said to [Mary Magdalene], "Do not hold on to me, because I have not yet ascended to the Father.  But go to my brothers and say to them, 'I am ascending to my Father and your Father, to my God and your God'." (John 20:17)
Other than being completely astonished, I am sure Mary would have been bursting to show her affection for her resurrected friend and saviour.  Why did he refuse her when, as I have just demonstrated, the physical witness is a primary factor in the proof of his power and resurrection?
Surprisingly, Jesus did not emphasise the physical testimony.  Throughout his ministry, he downplayed the witness of his miracles, even though the Jews, in particular, repeatedly asked for miracles.
This resistance to rely on the demonstration of his power for validation culminated in a conversation with the apostle Thomas only a short time after Jesus' appearance to Mary Magdalene.  Jesus appeared to the apostles and focussed on Thomas' doubt when he said,
"Put your finger here and see my hands. Reach out your hand and put it in my side.  Do not doubt but believe."   Thomas answered him, "My Lord and my God!"  Jesus said to him, "Have you believed because you have seen me?  Blessed are those who have not seen and yet have come to believe." (John 20:27-29).
If we were to be honest with ourselves, we, sitting here, would have to admit we would prefer the power of a physical testimony.  Our neighbours and society certainly prefer that type of evidence: "Show us a sign!" we hear them say.  How comforting to rest on such a solid and final assurance of Jesus' power.
But Jesus prefers we listen to the testimony of the Holy Spirit as we find our faith in God.  He could have taken the David Copperfield approach and demonstrated his God-given authority through the performance of tricks and slight-of-hand.  But this sort of magically-inspired faith does not last and continually requires ever greater validation.
Jesus promised a free, full and forever life to his friends, and demonstrated its reality by coming back to life himself, from the dead.  Yet giving you all this "proof" is not what is going to convince you to follow Jesus' example and his wisdom as you make your way in this world.  You need to have an encounter with the Holy Spirit.
Search your heart.  Listen to the Spirit.  Give God permission to prove to you he is real and convince you to pledge your allegiance to him.  His way brings peace, joy, clarity and certainty. His way brings life! Let us celebrate together the love song that is Christ is risen!  He is risen, indeed!
Endnotes
[1]Jeff Minick, "Identifying the Liars and Living by Truth", Intellectual Takeout, 5-Apr-2023, https://replug.link/05de2220 (accessed 6-Apr-2023).
[2]See "How stressed are Australians?", https://replug.link/67ded160; "Are Australians satisfied with their lives?", https://replug.link/9e6912c0; and, "Do Australians have a sense of hope and purpose for the future?", https://replug.link/b0c0bc40, National Church Life Survey, (accessed 6-Apr-2023).
[3]Carey Nieuwhof, "5 Shocking Realities About the Real State of Pastor Burnout", 2-Apr-2023, https://replug.link/d4135500 (accessed 6-Apr-2023).
[4]"Australia on the brink of 'The Great Resignation' with 38% of Aussie workers looking for a new job, and the numbers could get higher", PwC Australia, 2021, https://replug.link/9d59aec0 (accessed 6-Apr-2023).
[5]Unless otherwise noted, all scripture quotations are taken from The Christian Standard Bible (Nashville, TN, USA: Holman Bible Publishers, 2017).
[6]Material for this sermon is taken from an online review of Ben Witherington III's book, New Testament History: A Narrative Account.  Published with permission from Baker House on Beliefnet's website  (http://www.beliefnet.com/story/102/story_10203.html, accessed 15 March 2005).
[7]However, it is worth noting that both among Jews and Gentiles visions of dead people were common enough to be expected. Thus, to say people had a vision of Jesus after his death was not extraordinary. What was extraordinary is the empty tomb. With Jesus' body no longer present, an empty tomb because the evidence Jesus had indeed been resurrected, a notion quite unthinkable then as now.
[8]The Bablylon Bee, producers of Christian satire, have created a video exploring this notion, "If Jesus' Resurrection Were A Hoax", 30-Mar-2023, https://replug.link/7c55f200 (accessed 8-Apr-2023).