God: Fight the urge to fit in (part 2)
"The Four Yorkshiremen" is a comedy sketch made famous by the Monty Python group in which they parody nostalgic conversations about humble beginnings or difficult childhoods.
It starts with the successful men sitting in a club together, drinking wine. As they muse over their success, they begin to wistfully remember 'the good old days', and try to outdo each other in the remembrance of their hardship.
First Yorkshireman: Who'd a thought thirty years ago we'd all be sittin' here drinking Chateau de Chassilier wine?
Second: Aye. In them days, we'd a' been glad to have the price of a cup o' tea.
Third: A cup ' COLD tea.
First: Without milk or sugar.
Fourth: OR tea!
Second: In a filthy, cracked cup.
First: We never used to have a cup. We used to have to drink out of a rolled up newspaper.
Third: The best WE could manage was to suck on a piece of damp cloth.
Fourth: But you know, we were happy in those days, though we were poor.
As their nostalgia descend into absurdity, it ends with the payoff line "...and if you tell that to the young people today, they won't believe you..."
Although played for laughs, the nostalgia for hardship is a ploy to elicit admiration for the characters' success. As such, the nostalgia is really an expression of pride.
And pride reveals itself in subtle, and not so subtle, but nonetheless destructive ways.
Therefore, brothers and sisters, in view of the mercies of God, I urge you to present your bodies as a living sacrifice, holy and pleasing to God; this is your true worship. Do not be conformed to this age, but be transformed by the renewing of your mind, so that you may discern what is the good, pleasing, and perfect will of God. (Romans 12:1–2)[1]
We cannot know what is God's will generally for Christians and specifically for individuals, until our thinking has been transformed through worship and reflection on the commands of God indicated in the Bible. As a result, it is fair to say no one can live a Christian lifestyle until he or she has biblical beliefs.
Like the chameleon whose skin colour changes to reflect its surroundings, more and more nominal Christians are conforming to this age, they are being urged to fit in with the spirit of this world.
A nominal Christian is one who is a Christian in name only; he or she does not hold to biblical beliefs and does not turn to the Bible or Jesus' example for wisdom on living, so as to glorify God. Such a person is a prime target for the urge to fit in with the fallen and sinful world we were supposed to have left behind when we decided to follow Christ!
I want to encourage you to fight the urge to fit in.
This sermon series is going to describe for you what is essential to believe, so that you can be a friend of Jesus.
As we explore what is essential to believe for Christian faith, we started by looking at a pillar of faith, being what we believe about Jesus. This is a pillar because it is only through Jesus that we know anything about God that is truth rather than speculation.
So having reasserted that pillar, let us now turn our attention to the 'granddaddy of all' beliefs:
We believe in the omnipotent God who eternally exists as Father, Son and Holy Spirit: three divine persons sharing one eternal divine life and being.  God is the creator of all whose rule knows no end.
There are four things this statement tells us about God:
God is Omnipotent
The first thing we learn from this statement is God is omnipotent, which is a fancy way of saying God is all-powerful and is able to do whatever he wills when he wills it.
Looking at them, Jesus said, "With man it is impossible, but not with God, because all things are possible with God." (Mark 10:27)
This belief is evident in the Old Testament as well:
I know that you can do anything and no plan of yours can be thwarted. (Job 42:2)
It is important we understand omnipotence is a philosophical category, and even now someone philosophically minded is preparing to say out loud, "If God is all powerful, then can he create a rock too big to lift?"
To those sitting next to such a person, please smack him upside the head! ☺
That is an illogical statement first year university philosophy students are wont to parrot. God obeys the logic he himself built into this universe.
Anyway, let's be honest though, everyone else is thinking, "If God is so powerful, then why doesn't he [fill in the blank]?"
It is a fair question. If God is all-powerful, then why doesn't he do something about the state of the world and the human condition. Why doesn't he prevent the tragedies we face alone and together? To which I will echo the words of the prophet,
The Lord your God is among you, a warrior who saves. He will rejoice over you with gladness. He will be quiet in his love. He will delight in you with singing. (Zephaniah 3:17)
We know God's will is to save, just as we know God's purpose always was to share his love with a people who would return it.
We can only understand God is all-powerful when we also acknowledge his power is limited by his character: God cannot deny himself (2Tim 2:13); he cannot tolerate evil (Hab 1:13); he cannot be tempted (Jam 1:13); and, he cannot lie (Num 23:19), just to name a few of God's attributes. But I cannot stop there: God is also holy (Ex 15:11), just (Dt 32:4), merciful (Ps 51:1), gracious (Eph 2:4-8), generous (Jam 1:5), loving (1Jn 4:8), and so much more besides. To be such requires God to withhold the expression of his power sometimes.
And one of those times was caused by the fall of humankind into sin:
Then the man and his wife heard the sound of the Lord God walking in the garden at the time of the evening breeze, and they hid from the Lord God among the trees of the garden. So the Lord God called out to the man and said to him, "Where are you?" (Genesis 3:8–9)
Notice God was enjoying the beauty of that garden and wanted to enjoy it with the man and woman. Yet he apparently did not know they had chosen to reject all of God's good and perfect gifts to them (Jam 1:17), and sought wisdom on their own terms, which led to theirs and our downfall. They rejected God's love and authority, and so became enslaved to another prince (Jn 14:30), which has exacted a heavy toll on humanity.
And we have each ourselves done the same!
"If God is all-powerful, then why doesn't he …?" Because his character is such that his will will not override our will. To exert his power would be to take away our freedom, and that he will not do, no matter how much we implore him to.
The consequences of our sin are ours to face, even after we've been saved from the curse of sin and death.
Yet because God is all-powerful, that means he is the Mighty One:
The Mighty One, God, the Lord, speaks; he summons the earth from the rising of the sun to its setting. (Psalm 50:1)
God's power is evident in Creation:
For his invisible attributes, that is, his eternal power and divine nature, have been clearly seen since the creation of the world, being understood through what he has made. As a result, people are without excuse. (Romans 1:20)
God's power is evident in history:
Lord God, you have begun to show your greatness and your strong hand to your servant, for what god is there in heaven or on earth who can perform deeds and mighty acts like yours? (Deuteronomy 3:24)
As a result, we can trust God's promises, that he will do what he has said:
[Abraham] was fully convinced that what God had promised, he was also able to do. (Romans 4:21)
Some of those promises will be described in future sermons of this series.
God is Triune
The next thing we learn from this statement is God is triune.
The grace of the Lord Jesus Christ, and the love of God, and the fellowship of the Holy Spirit be with you all. (2 Corinthians 13:14)
This topic was the focus on a sermon in June of this year, but let us remember the Bible reveals there is only one true God (Dt 6:4); that this God is three persons, the Father, the Son and the Holy Spirit, each of whom is distinct from, yet interrelated with, the others; and that all three persons are fully, equally and eternally divine.
The actual term "the Trinity" is not found in the Bible, but the truths implied in a trinitarian understanding of God are clearly set out there. The OT hints at a plurality of persons in the Godhead.[2] The NT affirms that the Son and the Holy Spirit are divine.[3]
God is Creator
This statement also tells us God is creator.
You, Lord, are the only God. You created the heavens, the highest heavens with all their stars, the earth and all that is on it, the seas and all that is in them. You give life to all of them, and all the stars of heaven worship you. (Nehemiah 9:6)
This tells us the natural world is a created order, established by a sovereign decision on the part of God.[4] The creation is dependent upon and under the authority of its Creator. Scripture affirms the role of both Jesus Christ (Jn 1:3) and the Holy Spirit (Job 33:4) in the work of creation.
In affirming God is creator as an essential belief, I do not want anyone to think I espouse a 'God-of-the-gaps' approach, nor that I am in any way anti-science. I am anti-Scientism, but that's a discussion to be had over morning tea.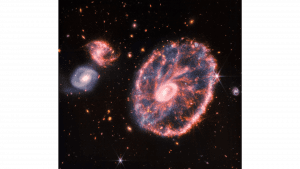 Christians should not be so naïve as to treat any gap in human knowledge as evidence that God is the answer. There is so much we do not know about ourselves, our world, and even our universe. Consider this recent image from the James Webb Space Telescope, to which BioLogos President Deb Haarsma stated:
Check out the latest JWST image, this time of a rare "ring" galaxy. JWST shows the ring-and-spoke structure much more clearly than we could see with Hubble. I love how JWST gives a window on the universe at wavelengths beyond what our eyes can see —a picture God has known all along!
God has revealed himself as Creator and that we can know anything about how this universe works is itself a gift from God.
God is Sovereign
Finally, this statement teaches God is sovereign.
Your throne, God, is forever and ever; the scepter of your kingdom is a sceptre of justice. (Psalm 45:6)
As the all-powerful Creator, God is free to do all he wills[5] and he is able to do whatever he wills.[6] God cannot be successfully opposed,[7] but the fact is God is opposed:
One day the sons of God came to present themselves before the Lord, and Satan also came with them … Satan answered the Lord, "Does Job fear God for nothing? … But stretch out your hand and strike everything he owns, and he will surely curse you to your face." (Job 1:6–11)
God rules over all creation. This is often expressed in the Bible using the language of kingship.
The Lord sits enthroned over the flood; the Lord sits enthroned, King forever. (Psalm 29:10)
God is sovereign over creation;[8] over human life;[9] over the minutest details of life (Mt 10:29-30); in the life and salvation of his people;[10] over the sufferings of believers;[11] over world history;[12] and, God is sovereign over all other gods and over demonic forces.[13]
Yet, does Queen Elisabeth control your day-to-day life? Does she tell you where to go, what to do, what to think or say?
As the sovereign of the Commonwealth to which Australia belongs, she is the basis upon which all our laws are determined, yet we are free to contravene those laws any old time we want, and our queen will be none the wiser!
God is all-powerful, triune, the Creator, and as such he is sovereign over all things; yet like his power, his sovereignty is limited by his character.
He disarmed the rulers and authorities and disgraced them publicly; he triumphed over them in him. (Colossians 2:15)
Make no mistake, Satan is defeated through God's sovereign purposes at work in Jesus Christ.[14] Whatever chaos and violence we experience now, as a result of our fallenness and sin, will be righted in the end, since we will be held accountable to his holiness and his justice, and to will those be held accountable who mean us harm.
Mysterium, Tremendum, Fascinans
Because we have every reason to trust Jesus is who he said he is and that what is written about him is true, we can then be confident that God is real.
We learn from the Bible this all-powerful and sovereign creator is triune in nature, and this means God is bigger and better and wholly other than we are.
When you encounter this God for the first time you will feel a sense of the tremendous mystery of his being, and a frightful awe in his presence, yet you may also experience a fascination and feel compelled to draw close.
As the apostle John wrote,
For everyone who does evil hates the light and avoids it, so that his deeds may not be exposed. But anyone who lives by the truth comes to the light, so that his works may be shown to be accomplished by God. (John 3:20–21)
The choice then is yours: Will you cower at the painful reality of your sinfulness in comparison to the greatness, glory, goodness and generosity of our creator God, or will you draw close seeking cleansing from your unrighteousness and a warm embrace from our Heavenly Father?
To acknowledge and accept God is all-powerful, triune, our creator, and sovereign, is to recognise that you are second.
In The Name Of Pride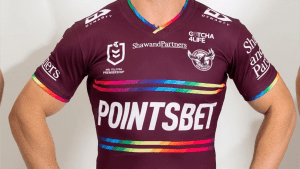 Last week, I mentioned a group of seven Manly Sea Eagles rugby players who refused to wear Pride oriented jerseys because they had not been consulted. You may have wondered to yourself at the time, "Why is it such a big deal to wear an athletic jersey that celebrates LGBTIQ+ 'pride'?"
Indeed, that question was asked by Peter FitzSimons, an Australian author, journalist, radio and television presenter, and a former national representative rugby union player. He wrote in The Age newspaper,
What the hell is wrong with you blokes that you don't get it? You are prepared to trash the entire Manly season on this issue alone? In a world where rugby league has led the sporting fraternity in making change, in making it clear that the game really is for all races, all genders, all sexualities, all religions you want to make a stand for ... Your religion? …

Does your religion … draw the line at showing support for the central idea that while some people are born with red hair and freckles, some with blond hair and vacant looks, some with black hair and darker skin, some are also born straight while others are born gay? That's it! That is all that Manly wearing the rainbow jersey is saying. To put it in terms that might resonate, "We are all God's little creatures, and we come in all shapes and sizes, all colours, all sexualities, so isn't it all just wonderful!"[15]
FitzSimons accepted the players were not consulted, they were not asked whether wearing such a jersey would cause them offense. FitzSimons seems to believe he knows more about the player's religion than they know themselves. And it would not matter because they should just get in step with how everyone else 'knows' the world works.
This is why I stated wearing the LGBTIQ+ 'Pride' jersey was a political statement. No one complained when,
Muslim AFLW player Haneen Zreika was allowed to sit out a gay pride game earlier this year with barely any controversy. In fact, she was widely congratulated for standing by her faith with dignity and a minimum of fuss …

And when Australian cricketer Usman Khawaja hesitated to join celebrations after winning the Ashes, his teammates were widely praised for delaying the traditional spraying of beer out of respect for his Muslim faith so that he could join them on the winners' dais.

So what's the difference with the Manly players? Why are they not congratulated for the courage of their convictions? Why is their faith not respected?

Simple. They're Christians.[16]
As pastor and blogger Murray Campbell put it,
Wearing the jumper isn't about solidarity, it represents conformity …

The pride story is a story of self salvation. Redemption is all about self realisation. Rather than the Bible's story of us needing divine salvation from sin in ourselves, today's culture says that I define my own value system and it's the job of God and everyone else to affirm me …

That's today's gospel: Be your authentic self.[17]
After receiving an Honorary Doctorate in Fine Arts from New York University this year, pop singer Taylor Swift proclaimed during her commencement speech,
I know it can be really overwhelming figuring out who to be, and when. Who you are now and how to act in order to get where you want to go. I have some good news: it's totally up to you. I also have some terrifying news: it's totally up to you.[18]
That is pride. You define your own rules; you define right and wrong, good and evil. You define your sexuality, your gender, your starting salary, your contribution to society. No one else but you. That the LGBTIQ+ movement has chosen pride as its rallying cry is exactly correct. It is pride to think so highly and so wrongly of yourself.
If you do not see what is so destructive about that, then I need only remind you this is the exact same mistake made by the first man and women in the early chapters of Genesis. They rejected fellowship in the Garden because they decided they knew better than God and rejected the wisdom and commands of their creator. And we have been doing the same, as individuals and people ever since. And human history, and your history, is replete with the folly of such foolishness.
God is first; we are second. He is all-powerful, the creator, triune, and sovereign; we are not. He is great and glorious, good and generous; we are not. He is wise, loving, and merciful; we are not.
We would do well to acknowledge and accept that we are second, and commit ourselves to the task of allowing our minds to be renewed by this truth, so that we might learn and follow the good, pleasing, perfect will of our creator God, who is bigger, better and wholly other than us. Then, and only then, will this Earth become the human dwelling place our Creator intended for us.
[1]Unless otherwise noted, all scripture quotations are taken from The Christian Standard Bible (Nashville, TN, USA: Holman Bible Publishers, 2017).
[2]Gen 1:26; 3:22; 11:7; Isa 6:8.
[3]Mt 28:19; 2Co 13:14; Eph 4:4-6; Rev 1:4-5.
[4]See also Ge 1:1; 2:1; Ps 24:1-2; Pr 8:22-31; Ecc 3:11; 11:5; Isa 66:1-2; Jer 10:16; 51:19; Jn 1:3; Ac 4:24; 7:50; 14:15; 17:24.
[5]Ps 135:6 See also Ps 115:3; Isa 46:10; Da 4:35; Ro 9:19-21.
[6]Lk 1:37; see also Job 42:2; Mt 19:26; Eph 3:20.
[7]Job 42:2; see also 1Sa 2:10; 2Ch 20:6; Job 9:12; Ecc 7:13; Isa 43:13; 45:9-10; Ac 5:39.
[8]Rev 4:11; see also Ps 93:1; Isa 40:22; 41:18-19.
[9]1Ch 29:12; see also 2Ch 25:8; Lk 1:51-53; Ac 18:21; Jas 4:15.
[10]1Co 1:30; see also Jer 18:6; 1Co 12:11; Php 2:13; Jas 1:18.
[11]Php 1:29; 1Pe 3:17.
[12]Pr 21:1; see also Ex 9:16; Ps 22:28; Jer 18:7-10; Da 4:35.
[13]Ps 95:3; see also Ex 18:11; Dt 10:17; 1Ch 16:26; Ps 96:5; Da 2:47; Col 1:16.
[14]See also Jn 12:31; Ro 16:20; 2Th 2:8; Heb 2:14; 2Pe 2:4; 1Jn 3:8; Jude 6; Rev 12:7-10.
[15]Peter FitzSimons, "For God's sake, AFLW and Folau comparisons miss mark on Manly jersey saga", The Age, 26-Jul-2022, https://bit.ly/3vKl7w2 (accessed 6-Aug-2022).
[16]James Macpherson, "Half the Manly Team Walks Out Over Gay Jumper", The Daily Declaration, 26-Jul-2022, https://bit.ly/3SuwYIj (accessed 6-Aug-2022).
[17]Murray Campbell, "Peter FitzSimons doesn't understand the Manly 7", MurrayCampbell.net, 27-Jul-2022, https://bit.ly/3OXkl5C (accessed 6-Aug-2022); for more see Stephen McAlpine, "Manly in Babylon", StephenMcAlpine.com, 26-Jul-2022, https://bit.ly/3P2j79i (accessed 6-Aug-2022).
[18]Taryn Ryder, "Taylor Swift gives inspiring NYU commencement speech: 'Mistakes led to the best things in my life'", Yahoo Entertainment, 19-May-2022, https://yhoo.it/3A2pTYe (accessed 6-Aug-2022).