Defender Of The Faith?: On tolerance toward the world's religions
I know it is a few weeks on since King Charles III was crowned in London (6-May-2023), but an article I read drew an aspect of the situation to my attention and today was the earliest I could afford to address that topic. And by "address it" I mean "use it as a sermon illustration" ☺
According to historian Roger E. Olson,
King Charles III of the UK is by law "The Defender of the [Christian] Faith" as well as "Chief Governor of the Church of England." However, in the past, before he became king upon the death of his mother, he has declared that he intends to be "Defender of the Faiths [plural]" as well as "Defender of the [Christian] Faith." [1]
I agree with this historian that this historical declaration of the present king raises some very interesting questions.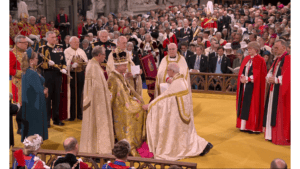 Notable at his coronation were representatives of world religions including The Bahai World Faith. There were Muslims, Hindus, Buddhists and, of course, representatives of the Jewish faith. And he met with these after his coronation to assure them, individually and personally, of his high regard for their religions. This according to news reports.
Ostensibly, Charles is a Christian. Can a real Christian be a defender of other faiths? Yes and no.
Yes, in the sense of defending their rights to worship freely. No, in the sense of defending their religious beliefs as valid and true.
Which does King Charles III mean? The first one only or both?
Since King Charles has shown a proclivity toward New Age beliefs and practices in the past, it seems likely to me he would accept all religious beliefs as valid and true, so will defend all faiths on equal grounds.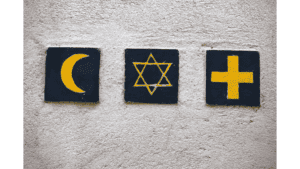 My guess is you too have wondered whether all religious persons should be free to practice their faith in whatever ways seem right and proper to them. You have also likely questioned whether all religious beliefs are valid and true, since this is a very attractive and tolerant idea —and we all just want to get along, don't we?
The historian Olson is correct in observing the United Kingdom is, by tradition and common law, a Christian country, which is precisely why it tolerates and even extends equal rights under the law to members of non-Christian religions. Do we see the same rights extended by any Muslim monarchs to members of non-Muslim religions in their realms? Do secular authorities in China extend the same rights to religious persons in their territories? Only Christianity is tolerant in this way.
It is good and proper for King Charles to express his support for equal rights to members of non-Christian religions. Such benevolence is a hallmark of Christian faith and practice.
Today, I want to help you to understand how the friends of Jesus can share with persons of other faiths a genuine desire to know God and be known by God. However, it is not intolerant to acknowledge we believe different things and to justify our beliefs with evidence and reason.
Explanation
What is a Christian's Relationship to the State?
In a nutshell, we know God's eternal purpose was to establish for himself a people with whom to enjoy a relationship bound by love and partnership. That invitation was always intended for the whole human race. When that didn't work, God chose to work through one family (Abraham and Sarah), then one nation (the Israelites), then one person (Christ Jesus), and then the Church.
The Church's role is to be a witness (Ac 1:8)[2] and ambassador (2 Cor 5:20), to perform a ministry of reconciliation (2 Cor 5:18), so as to make disciples of all nations (Mt 28: 18-20). That role is not to be fulfilled through political domination (Mk 10:42-45). The friends of Jesus are to be good citizens in whatever land we find ourselves, for our allegiance is pledged to the King above all kings, as it is written,
If possible, as far as it depends on you, live at peace with everyone.  (Romans 12:18)[3]
Christian communities are themselves encouraged to be united even though diverse:
There is no Jew or Greek, slave or free, male and female; since you are all one in Christ Jesus.  (Galatians 3:28)
If unity in diversity is the norm for Christian communities, why then would we not encourage peaceful pluralism in civil society? We want to be free to practice our faith unhindered and so find reason to extend that same courtesy in the wisdom of the Bible.
Religions are Equal But Different
A true Christian can defend the equal rights of non-Christians in law and in terms of citizenship rights, certainly, but a true Christian cannot defend non-Christian religions as means of salvation.
We know the light of God shines in the darkness of Creation. Everyone everywhere sees that light and are therefore afforded an opportunity to respond, to bask in the warmth of God's presence:
For [our Creator's] invisible attributes, that is, his eternal power and divine nature, have been clearly seen since the creation of the world, being understood through what he has made. As a result, people are without excuse.  (Romans 1:20)
Some respond to that light and find ways to be faithful to the gentle urging of the Holy Spirit and some do not:
So, when Gentiles, who do not by nature have the law, do what the law demands, they are a law to themselves even though they do not have the law. They show that the work of the law is written on their hearts. Their consciences confirm this. Their competing thoughts either accuse or even excuse them on the day when God judges what people have kept secret, according to my gospel through Christ Jesus.  (Romans 2:14–16)
Thankfully, God sees what is in the heart of everyone and judges accordingly (Heb 4:12). Ours is not to judge but to be a witness.
How then do the friends of Jesus witness to persons of diversity religious faiths in our society?
Some Christians have the attitude: "Christianity is true but non-Christian religions are not false." This is a shorthand way of saying non-Christians religions may be at least a little true, if not completely, so they are therefore not false.
Some Christians argue all world religions are equal paths to God and that, at the center, they all share the same basic beliefs, being equally valid paths to salvation.
Some Christians believe Jesus Christ is the Saviour for Western people but not for all people, so there are other saviours.
The problem with all of these opinions is, when asked to define "salvation" —which is the problem at the heart of every religion, even if they do not all use the same language for this problem— those who hold these opinions refuse to define "salvation" because they cannot, from these starting points. While there are some things all religions can be said to hold in common, salvation is not the same to every religion.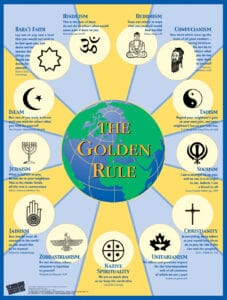 The World's Religions Do Not Believe The Same Thing
A great example of this is what has come to be called The Golden Rule.
Arguably, all religions share this idea, or at least some variation of it. Yet, even with this there are significant differences. Let's see if you can identify the differences in these examples:
Christianity – "Whatever you want others to do for you, do also the same for them, for this is the Law and the Prophets." (Jesus, Matthew 7:12)
Bahá'í Faith – "Lay not on any soul a load that you would not wish to be laid upon you, and desire not for anyone the things you would not desire for yourself." (Bahá'u'lláh, Gleanings)
Buddhism – "Treat not others in ways that you yourself would find hurtful." (The Buddha, Udana-Varga 5.18)
Confucianism – "One word which sums up the basis of all good conduct … loving-kindness. Do not do to others what you do not want done to yourself." (Confucius, Analects 15.23)
Hinduism – "This is the sum of duty: do not do to others what would cause pain if done to you." (Mahabharata 5:1517)
Islam – "Not one of you truly believes until you wish for others what you wish for yourself." (The Prophet Muhammad, Hadith)
Jainism – "One should treat all creatures in the world as one would like to be treated." (Mahavira, Sutrakritanga 1.11.33)
Judaism – "What is hateful to you, do not do to your neighbour. This is the whole Torah; all the rest is commentary. Go and learn it." (Hillel, Talmud, Shabbath 31a)
Native Spirituality – "We are as much alive as we keep the earth alive." (Chief Dan George)
Sikhism – "I am a stranger to no one; and no one is a stranger to me. Indeed, I am a friend to all." (Guru Granth Sahib, p.1299)
Taoism – "Regard your neighbour's gain as your own gain and your neighbour's loss as your own loss." (Lao Tzu, T'ai Shang Kan Ying P'ien, 213-218)
Unitarianism – We affirm and promote respect for the interdependent web of all existence of which we are a part. (Unitarian principle)
Zoroastrianism – "Do not do unto others whatever is injurious to yourself." (Shayast-na-Shayast 13.29)
It does not challenge the validity or truthfulness of any religious tradition to acknowledge they all promote some version of this foundation for ethical beliefs and moral behaviour. On the contrary, The Golden Rule is a prime example of God's light shining into his creation and all human hearts are naturally inclined to its wisdom. Therefore, it is perfectly acceptable for Christians to celebrate this shared truth with persons of other faiths.
However, the world's religions most definitely do not share the same idea about the basic nature of God and that does make all the difference! Allow me to explain the differences with a handy flowchart: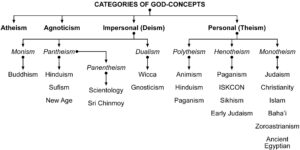 What we normally call religious belief begins with the two main categories of either belief in a personal God (which is known as "Theism") or belief in an impersonal divinity (which is known as "Deism"). There are two other categories, that of Atheism (the belief that no god, in any form, exists) and Agnosticism (the belief that, even if a god did exist, he/she/it would be unknowable).
Despite arguments to the contrary, both Atheism and Agnosticism are religious in nature because they are beliefs regarding the existence of a divinity and are themselves often treated with care and devotion appropriate to worship, even though not promoting an official religious tradition specifically.
Religious groups promoting belief in an impersonal force are:
Monism assumes that all of reality is a singular substance (i.e., "all is God") and anything that purports to be independent, such as our personal identity, is illusion (e.g., Buddhism)
Pantheism assumes the divine is everything in the cosmos and that everything is divine (i.e., "God is all"); it is distinguishable from Monism in that it is beginning to posit divinity (e.g., Hinduism; Sufism, being a sect of Islam; and, the New Age Movement)
Confronted with a cancer or a slum the Pantheist can say, "If you could only see it from the divine point of view, you would realize that this also is God."  The Christian replies, "Don't talk damned nonsense". (C.S. Lewis, The Case for Christianity, 1943)
Panentheism is a derivative of Pantheism that allows a distinction between the divine reality and the created cosmos (e.g., Scientology; the Sri Chinmoy movement)
Dualism revolves around cosmogonic myths describing two gods or two principles in conflict (e.g., Wicca; European Gnosticism)
Strands of belief in a personal divinity are:
Polytheism worships many gods (e.g., Animism; Hinduism, some forms of which recognise 330 million gods; Greco-Roman Paganism)
Henotheism identifies a supreme God among gods; it is "monotheism in principle and polytheism in fact" (Max Müller, philosopher) (e.g., Classical Greco-Roman paganism; ISKCON, followers known as the Hare Krishnas; Sikhism; Early Judaism)
Monotheism assumes that a singular god exists (e.g., Judaism; Christianity; Islam; Baha'i, a sect of Islam; Zoroastrianism)
Explicit Monotheism identifies this supreme God with an individual (e.g., ancient Egyptian religion)
As you can see, the world's religions conceive of the divine very, very differently;[4] thus, we can argue their view of salvation is quite different. If this fundamental problem of the human condition is conceived of and solved differently, how can anyone then argue convincingly that all the world's religions are different paths to God? They cannot and they do not. It is only the sympathetic agnostics who make this argument (and the Bahá'í, of course).
It is therefore not intolerant to acknowledge we believe different things to our other-religious neighbours and to justify our beliefs with evidence and reason. A Christian can therefore support all persons of faith being treated equally under the law while defending the superiority of Christianity over the world's other religions.
Application
To come back to my opening illustration, what does King Charles III mean by "Defender of the Faiths"? Olson reported,
[King Charles'] coronation ceremony was a Christian service of worship of God. Representatives of non-Christian religions were especially invited to attend if not participate. A service of worship of God where known non-Christians are present ought to invite them to embrace Jesus Christ. I watched the coronation ceremony-service and, unless I fell asleep for a time, did not once hear the NAME Jesus Christ in spite of the many Christian clergy who led the ceremony-service.
If true, this is a travesty on the part of those so called Christian ministers. It is right for a Christian service of worship to in fact worship the Christian god. If we do not name that god, then attendees can take what is being said as applying to their own conception of the divine. That is withholding the opportunity for attendees to hear the truth about the God revealed by Christ Jesus, as we know that truth. They therefore remain in their ignorance and those Christian ministers will be held accountable for that, come the day of judgement!
You have neighbours. If they are not yet friends of Jesus, do not assume they have no beliefs about God. To gain an opportunity to share with them the reason for the hope you have in Christ Jesus (1 Pet 3:15), ask them what they believe and listen with the same respect you hope from them. You may find that despite their other beliefs, they may have discerned some truth about God. Affirm that truth.
It will be from that point of resonance you can then share the truth you have discovered, as revealed in Christ Jesus. You will then be able to affirm the truth about Jesus —his historicity, the stories of his ministry, his mission revealed in his teaching, the confidence we have in the Bible, etc— the truth about Jesus is far superior to that of all other religions, atheism and agnosticism included. Only sharing that truth after earning trust, and sharing the truth with gentleness and respect, will you get a fair hearing and lead someone to placing their faith in Jesus and beginning to live a Christian lifestyle.
Conclusion
The friends of Jesus can share with persons of other faiths a genuine desire to know God and be known by God. However, it is not intolerant to acknowledge we believe different things and to justify our beliefs with evidence and reason.
Endnotes
[1]Roger E. Olson, "Can a Christian Be 'Defender of the Faiths?'", Patheos, 9-May-2023, https://replug.link/823813d0 (accessed 6-Jun-2023).
[2]Unless otherwise noted, all scripture quotations are taken from The Christian Standard Bible (Nashville, TN, USA: Holman Bible Publishers, 2017).
[3]See also Mk 9:50; Rm 14:19.
[4]This categorisation does not mean there is an evolution to religious belief, as some would argue, which treats Monotheism as superior to Monism, for example. The beliefs of the world's religions can be compared so as to identify their differences, but it is not fair to use this as a signifier of quality. They each arise in different places and times; there context needs to be taken into account. That religions do evolve within themselves can be seen, however, in Buddhism, Hinduism, the move from Judaism to Christianity, and Islam. Sociologist Rodney Stark, in his 2007 book Discovering God: A New Look at the Origins of the Great Religions, makes much of the so-called Axial Age, how the sixth century BCE gave rise to an astonishing number of religious founders and innovators from Buddha, Confucius, Lao-Tzu (Taoism), Zoroaster, Mahavira (Jainism), the authors of most of the Hindu Upanishads, and the Israelite prophets Jeremiah, and Ezekiel. Was this all merely a freak accident of history, or was something else going on?